How Do I Find a Hot Niche Market?
I was looking around my site and realized I have several really good blog posts about How to Find a Profitable Niche Market.
I thought I'd do a quick link roundup to share so they were all in one place for you. 🙂
Here you go…
How Do You Choose a Profitable Niche? 
This is an Expert Briefs blog post that I really love.
Each person answered the question "If you were going to start over in a new niche (not internet marketing or business related) – how would you choose which niche? Also, how would you know that it would be profitable before jumping in?"
Niche Research – A Step-By-Step Approach To Creating A Niche Website 
Written by Susanne Myers.
Quote from this article "Before you start building your new site, I want you to check on one more thing… Are there any products (eletronic or physical) that you can sell to this market? "
3 Easy Ways To Create Niche Products
Written by Susanne Myers.
Quote from this article "I know it can seem a little intimidating to create your own information product, especially if you've never done it before. Here are three different ways to create niche products that are all very simple and straight forward."
How do you decide which idea to turn into a product?
Written by Erica Douglass.
Quote from this article "It's awfully hard to sell a niche product if there's just no one out there looking for the information you want to sell."
---
Where Can You Learn More about Finding a Hot Niche Market?
Recommended Resource #1

My friend, Susanne creates Niche Research Packs and can help you to determine if you're entering a profitable niche or not. She's done the research for you.
In each pack, you get…
Detailed niche description
Who your target market for this niche is
List of affiliate products available
100 domain name ideas (plus list of modifiers for hundreds more)
Detailed keyword report for over 1000 keywords
100 article and blog post ideas
15 different author resource boxes
2 different detailed marketing plans (beginner and advanced) with action steps to get you up and running right away.
List of available PLR products for this niche
Recommended tools and resources
Here's the link: Niche Research Packs
Recommended Resource #2: Free Webinar by Kevin Riley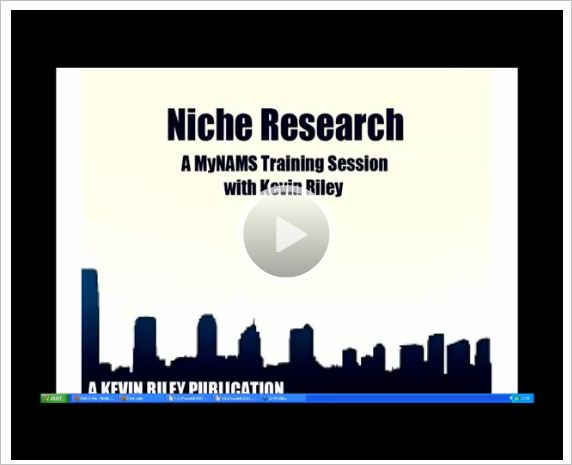 Click on the arrow to go to the page where you can listen.
(You'll find this hour long webinar free to listen to on that page.)
Warmly,
Nicole Dean
PS. I can't talk about niches without mentioning Weird Niche Wednesdays. From handerpants (underpants for your hands) to bacon candles – there's a niche for that. 😉