You can't calm the storm. You can only calm yourself.
I'm sitting on my couch with the french doors open, getting some much needed fresh air. The dogs are both laying by the pool in the sun, smiling. Like I told Ivita today "I'm doing everything in my power to stay sane in what is temporarily an insane world."
I still believe the world is full of miracles — and I am definitely also sitting in the reality that there is a lot of anger and sadness in the world that needs healing at the moment, too.
The book I'm reading right now is
Stillness is the Key by Ryan Holiday
. In it, he tells stories about situations where successful and famous people (from JFK to professional athletes to Fred Rogers) slowed down in order to achieve great things. I'm finding the stories fascinating and inspiring. You might enjoy it, too. I bought it in print and I liked it so much I got it on Audible, too. However, I'm not a huge fan of his voice. So if you're thinking of getting it, first listen to the sample.
Speaking of stillness, yesterday I went on a silent walk with my husband (or as I refer to him Mr. Sexy). No we weren't fighting. Yes, we are together ALL the time so we talk, a lot. We were walking the dogs and I realized we both were silent. My instinct was to fill the silence, but instead I stayed in it for a little bit. Then I realized he was probably processing the rough news we got this week about someone we both love dearly.
Normally my husband listens to podcasts or audio books or he's looking at a screen reading something — so I think it was the first time that he had his OWN thoughts in his head rather than someone else's thoughts (since he got the news). Ouch right? After a bit he did say something and we discussed it a bit. But later I told him that I really enjoying our silent walk and would like to do it more. Silence of the mind can be a blessing.
The book "Stillness is the Key" keeps making me think about being the calm in the storm and one of my favorite quotes.
You can't calm the storm, so stop trying.
What you can do is calm yourself. The storm will pass.
– Timber Hawkeye
The world may be stormy now. Full of chaos, uncertainty and anger, but we still get to choose our emotions.
This is a reminder for myself, too, today, to recognize that I am constantly choosing how I process my surroundings and situations and I alone choose what emotion I assign to all things.
Hugs and high fives.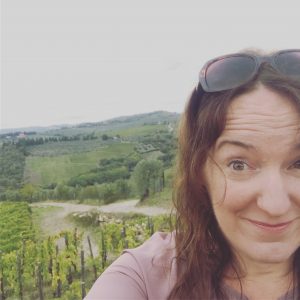 Nicole