Weird Wednesday: Bacon Vodka
Hi again. It's Weird Niche Wednesday time.
If you're new to Weird Niche Wednesday, you're in for a treat. I find weird niches and websites and we get to discuss whether it may be a viable niche and also have some fun.
For this week's Weird Niche we're going back to Bacon. This time it's ….

Yes, Bacon Flavored Vodka.
We've covered a lot of Bacon Products already in the past:
From this post Bacon Products to this one Bacon Products, Again!.
But, we haven't ever talked about Bacon Vodka. So, here's their press release to learn more.
BAKON VODKA – THE WORLD'S FIRST BACON FLAVORED VODKA
Northwest Company Launches One-of-a-Kind Potato Vodka

Seattle, WA May 2009 — Bacon Vodka? Yes. Bacon Vodka.

This unique combination of flavors served by forward-thinking mixologists has gained fans in bars across the country. Now Bakon Vodka, the first commercially available bacon flavored vodka, has already started people buzzing on social networks like Facebook and Twitter.

"This is the only vodka you'll ever want to use to make a Bloody Mary, and it works well in both sweet and savory drinks," says co-founder Sven Liden. "Bakon Vodka is also a great Bar-B-Q companion, used as a marinade or sipped chilled with a steak."

"Bacon has an earthy fragrance and a charismatic taste that brings out the flavor in a variety of dishes and it's enjoying a well-deserved renaissance," says co-founder Stefan Schachtell. "We wanted to take this classic ingredient and bring it to the beverage world."

Fans of both fine vodkas and bacon, the three founders of Black Rock Spirits decided to try infusing spirits with bacon to experiment with different flavors. The journey to find the perfect recipe took almost two years.

Bakon Vodka begins with superior quality Idaho potatoes instead of the random mixed grains that make up most vodkas. It is column-distilled using a single heating process that doesn't "bruise" the alcohol like the multiple heating cycles needed to make a typical pot still vodka. The delicate balance of flavors leaves drinkers with the essence of a crisp slice of peppered bacon.

Co-founder and Creative Director Chris Marshall notes, "Although today you can find plenty of sweet, fruity-flavored mixtures and infusions, we're excited to produce a savory spirit that people can't wait to try."
I'm a fan of Vodka — and most drinks, actually, but the thought of Bacon Flavored Vodka kind of made me threw up in my mouth until I saw two words on their site.
"Bloody" and "Mary"
Then I thought "OOOOOOOOH!"
All right, guys and gals – check out their website and let me know what you think.
1. What are they doing right?
2. What can they improve?
3. Are you interested in trying their Bacon Vodka?
4. What do you think about educating your customers to use your product? For instance, how my instant reaction of disgust to their product turned into interest?
5. Do you have a press area on your website for the media to feature you? If not, why not? (It worked for them!)
Lemme know!
Warmly,
Nicole Dean
---
Where Can You Learn More about Finding a Hot Niche Market?
Recommended Resource #1

My friend, Susanne creates Niche Research Packs and can help you to determine if you're entering a profitable niche or not. She's done the research for you.
In each pack, you get…
Detailed niche description
Who your target market for this niche is
List of affiliate products available
100 domain name ideas (plus list of modifiers for hundreds more)
Detailed keyword report for over 1000 keywords
100 article and blog post ideas
15 different author resource boxes
2 different detailed marketing plans (beginner and advanced) with action steps to get you up and running right away.
List of available PLR products for this niche
Recommended tools and resources
Here's the link: Niche Research Packs
Recommended Resource #2: Free Webinar by Kevin Riley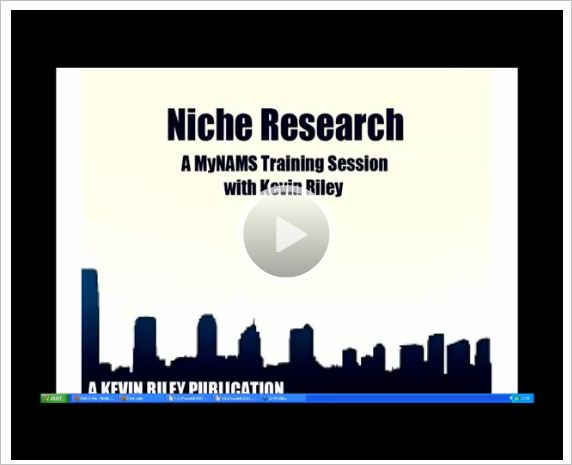 Click on the arrow to go to the page where you can listen.
(You'll find this hour long webinar free to listen to on that page.)