Weird Wednesday: Dating Site for Farmers
Hi again. It's Weird Wednesday time.
Actually, I'd stopped doing Weird Wednesdays awhile ago, because they were taking too much time to write. But, then I was getting all kinds of great suggestions from people. (This week's site is from Tracy Roberts of MomsInABlog.com – thanks Tracy!) So, I'm bringing them back, but simpler. I hope you still enjoy what I dig up for you.
I didn't know whether to put this one in Marketing Monday or Weird Niche Wednesday because it's brilliant but wacky.  (My favorite combination of marketing.)
You gotta watch this video advertisement… It's awesome!
Their Story.
"I'm really lonely but I'm too busy to date during harvest season"
Thousands of singles sow the seeds of love on FarmersOnly.com

FarmersOnly.com launched just over five years ago and quickly became THE place for farmers and ranchers to meet like-minded people.  In the last five years, membership went from 2,000 to well over 100,000 members. Despite the name, FarmersOnly isn't limited to only farmers. The rapid growth is also coming from just good old fashioned, down-to-earth people who live in small towns and rural areas.

"There have been countless successful matches and friendships made on the site. I get thank you emails and phone calls almost daily. In fact, there have been hundreds of marriages since FarmersOnly.com began," said Jerry Miller, Founder.

FarmersOnly.com is the brainchild of Jerry Miller who has done marketing and public relations for thousands of farms and ranches across the country.  While talking to one farmer, Jerry made quite a discovery.

"Recently divorced, she expressed her frustration of how difficult it was to meet someone new," Jerry recalled.

"I'm ready to give up!"  She said.  "How am I going to meet someone working on a farm all day? I already know everybody who lives around here… which isn't many people!  Maybe I'll try online dating."

She signed up on one of the biggest national dating sites soon after their conversation.

A month later, Jerry asked her how her luck was with online dating. She replied, even more frustrated, "The men who have been contacting me don't understand the lifestyle of a farmer," she told Jerry.  "They don't have a clue!"  This would later lead to the site's slogan. "City Folks Just Don't Get It!"

Being in marketing, he wanted to see if there was a need for a new site specifically for single farmers. "I talked to farmers and ranchers all over the country and discovered they all had the same problems.  They already knew everybody in their immediate areas.  They didn't have enough time to socialize. When they did find time, they didn't want to hang out at a bar.  They wanted to find someone who understood their lifestyle," he said.  "The need for this new online dating service became very clear and six months later, I launched FarmersOnly.com."
What lessons can we learn from this weird website and their success?
1. KNOW your market. These guys obviously nailed that one.
2. Humor can be a great thing in marketing. You don't have to take yourself too seriously.
3. If you niche down in a proven market (like dating sites) – you can get attention. These guys have been featured or mentioned on –
CNN
USA Today
Trumped (The Donald Trump Radio Show)
Newsweek
Smart Money
NPR (National Public Radio)
Here! (of course the coolest of all)  😉
You can see proof here: Farmers Only in the News
So, talk to me. What do you think about their story? I'd love to read your comments.
Warmly,
Nicole Dean
---
Are You Still Trying to Find a Hot Niche Market?
Recommended Resource #1

My friend, Susanne creates Niche Research Packs and can help you to determine if you're entering a profitable niche or not. She's done the research for you.
In each pack, you get…
Detailed niche description
Who your target market for this niche is
List of affiliate products available
100 domain name ideas (plus list of modifiers for hundreds more)
Detailed keyword report for over 1000 keywords
100 article and blog post ideas
15 different author resource boxes
2 different detailed marketing plans (beginner and advanced) with action steps to get you up and running right away.
List of available PLR products for this niche
Recommended tools and resources
Here's the link: Niche Research Packs
Recommended Resource #2: Free Webinar by Kevin Riley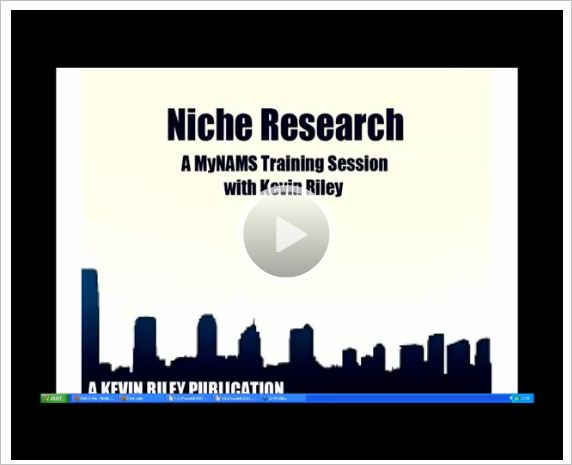 Click on the arrow to go to the page where you can listen.
(You'll find this hour long webinar free to listen to on that page.)