Need an Extra $200 a Month?
It's another Expert Briefs, where I ask really smart business owners to answer your burning questions.
If you've missed past Expert Briefs, you can click on the undies to see them all –>
This week we're talking about making money – fast. At some point in our lives we all need a little extra income. Whether it's to pay for your teen's braces, save for a vacation, start up capital for a new business, or just every day bills and groceries, sometimes an extra $200 a month can make or break the family budget.
So I asked the experts ….
If your (neighbor/mom/sibling) told you he/she needed to make an extra $200 a month,
what would you suggest?
---
Lynn Terry of Clicknewz says:
I hear this question quite a bit, and my answer is usually the same. I recommend that they write for pay. Creating content is the one thing most online business owners struggle with, and many of them are outsourcing the task. For some it's a matter of being more technical than creative, for others it's simply a lack of time.
Quality content is like soap – it's a "repeat buy" product. Marketers need an endless supply of well-written content that attracts consumers. And when an online marketer finds a reliable writer that puts out great content, they tend to stick with them.
The pricing for content varies, but I find a standard rate is $10 per 300-800 word article. This is in more casual, less technical categories of course. Those are relatively short articles you can easily do in under an hour. Five of those a week would earn you $200/month.
The big question then is where to find these jobs, or writing opportunities. There are a number of sources, including job boards and networks, but I usually advise people to get personal recommendations – or to get personally recommended.
You might start by finding topics you like, and then searching out people you'd like to work with. Send them 2-3 articles to review, and give them exclusive reprint rights, and let them know that you're interested in ghostwriting for them on a regular basis if they like your work.
---
Is an immediate need or can they transition into it gradually?
If the need is immediate, I would start by selling stuff you (and your family) doesn't need on ebay. It can get some cash coming in within a week or so.
I would then make a plan of attack for some ongoing income. Here's how:
1) Find a niche you like. (And I mean like! Don't do it because you think you can make money. If you don't like the topic and are only in it for the cash, it will show!)
2) Do some keyword research.
3) Buy a domain and set up a WordPress site.
4) Find a way to collect emails addresses.
4) Buy some PLR and sell it.
5) Find some affiliate products and offer those as well.
Last year, I set up a small niche site like this. I don't market it much, however, it consistently brings in about $140 per month, plus because of the topic allows me to write off some of my household expenses, giving me an additional $370 to play with each month.
---
In my previous life I was a classroom teacher, and I have two very special friends, Bernie and Sue Ann, who are now retired from teaching. I found out a few months ago that they were struggling to make ends meet on their pensions, and I recommended that they help some small businesses in their community.
Sue Ann writes well, and already knew about blogging. Bernie is a true 'people person', so he got out and found a business to start working with. Together they post to a blog, write and submit articles, and set up social media for the people they are helping. They now have three clients – a chiropractor, an electrician, and a retail store. What started out only bringing them a few hundred dollars a month now earns them more than a thousand dollars each and every month.
Helping small businesses is also good for the economy, so you will feel like you are making a difference in many people's lives, as well as your own, simply by doing this as a way to earn some extra money on a part-time basis.
---
Hmmmm… an extra $200 a month would depend on who they were and what they knew. I hear those people who stand on the side of the road begging for money do quite well. But let's presume these are people who don't talk to the voices in their head and drink excessively to silence them.
In that case, again depending on who is asking for help, I might actually suggest a part-time job. When I waited tables in college the money was so great that even after I graduated and got a "real job" I kept right on waiting tables. I worked at a hotel and did the morning buffet on Saturday and/or Sundays. Most days I would leave with $100 cash in my pocket. That's $200 in one weekend. Easy. Same with a bunch of other easy-to-get low-income jobs working part-time.
So now let's say this person already has an online business. If they need an extra $200 just once, I'd suggest a "fire sale" of their most popular items. Or creating a sale with some Sexy PLR ;-). For a longer-term $200/mo fix, I'd suggest promoting someone else's continuity program or creating one yourself (depends on how much work you're willing to do for that $200!).
Other options: Add a "donate" button on your blog & ask readers to donate. Sell advertising space on your blog. A company would easily pay $200 for exclusive access to the ideal traffic for them (and many companies would gladly pay more).
Finally one last and fun way to make "extra" money is to go to http://Fiverr.com and figure out what weird, crazy or useful thing you're willing to do for $5. Do that thing 40 times in a month & you've got your cash!
The point is when it comes to making money there are MANY options. You just have to be creative and have an open mind!
---
Nicole Dean of here! says:
Thanks gals! Those are all great ideas.
It's really difficult for me to set a hard-and-fast rule as to what is the single BEST way to do this for one simple reason. That is: All People are Different. What's easy to me may be difficult for you and vice versa. So to say this is the ONE way that will get you to $200/month fast — would be unfair for you, because it may not be. Without knowing you well enough, I can't advise you.  Everyone is different.
That being said, there are two main paths you could take:
1. Sell a Service.
2. Sell a Thing (or as normal people say "a product") 😉
Either way, if you're in business, you've got to be selling something, right? There has to be a transaction that takes place where a person pays cash for something they want or need. That's how business works.
So, here's what I'd advise to that person.
If he or she is unskilled in internet marketing at this point, then I'd suggest that they sell a service.
OR
If he or she does have some online business savvy, then they may be ready to set up an income stream and market the snot out of it and get to $200/month from that.
OR
The service path is easier to begin. It would also be the fastest path to cash if that person was in a dire situation. We all have skills, whether it's sports photography, face painting, transcription (typing fast), or writing.
The "thing" path is easier in the long-run because you aren't tied to trading time for money.
What I would prefer is a little of each. If they need money fast, then I would advise that they take the two-pronged approach that I often teach.
Sell your Time (by Starting a Service Business)
while Building your Passive Income on the side.
In fact, that's what I taught my mom to do.
She's been working as a Virtual Assistant for me and my friend (for 4 years) while she's been building up her blog income (RemarkableWrinklies.com). She is now getting a side income from Adsense and affiliate marketing.
She even launched a new ebook: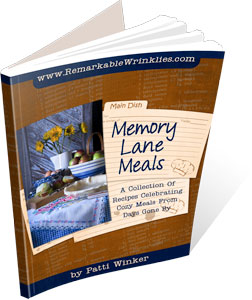 (Yes, I'm very proud of her.)
So, let's have it. What would you suggest to a friend who needs to make an extra $200/month? I'd love your input, too!
Warmly,
Nicole Dean
---
Recommended Resource for Learning about Passive Income
Right now, the place where I'd recommend you go to learn about affiliate marketing and growing an online business – especially if you're not making any money yet – is NAMS.
Click here to check it out
and be sure to look at the coupon on the page for a BIG discount!
---