Free Content for your Blog: Affiliate Marketing Report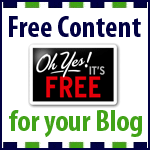 Hi I'm back with another "FREE Money-Making Content for You"Friday!
Friday is the day where I give you free content that you can use on your blog – with your affiliate link, to make money with affiliate marketing. Hurray!
Not only that, but it's copy/paste ready for you to profit.
So, yep. You can make money by publishing free stuff. Pretty cool eh?

So what do I have this week?
I have a new 30 page brandable report all about How to Get Started Making Money with Affiliate Marketing.
The report is actually the transcript of a presentation that my good friend, Lynn Terry taught at NAMS.
If you don't know about NAMS yet, be sure to check out this blog post/review:
Learn about the NAMS Conference in Atlanta
ok. Back to that free brandable report.
You can read it, and get details for branding it here:
Click here to Access the Free Report and get Branding Info
I hope that you have a fantastic week!
Warmly,
Nicole Dean