Free Rebrandable PDF: Start a Blog for the New Year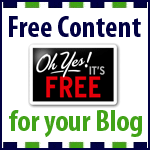 Hi I'm back with another "FREE Content for Your Blog" Friday!
Friday is the day where I give you free content that you can use on your blog. Hurray!
You may know that I'm a big (huge) fan of brandable reports. We both get to benefit with these freebies. You get a piece of money-making content to share with your readers, and we can both make money from the links inside.
Today, I have a new rebrandable report ready. It's called "How to Start a Weight Loss or Fitness Blog: Create a New Stream of Income in a Hot Niche in Time for the New Year".
Here's an exceprt from the report:
The weightloss industry is a perfect niche to get started in right now (we're writing this just a few days before Thanksgiving). It's a billion dollar industry with lot of smaller sub niches to get into (like weight loss and fitness for kids or expecting mothers for example). It's also evergreen.

People are trying to lose weight about 363 days out of the year (excluding Christmas and Thanksgiving Day) and are constantly searching for new ways to get slimmer, healthier and fitter.

Another reason why we like this particular niche quite a bit is the fact that there are 10s of thousands of long tail keywords you can create content around and get free search engine traffic from. In other words, it can be quite profitable to set up a weightloss and fitness affiliate site.

We're sure you're anxious to get started so let's jump right in.

To Your Success!
Nicole Dean & Susanne Myers
There are two opportunities to profit with this report.
Just follow these instructions .
1. Open this .exe Rebrander File. Your security settings may ask you to confirm that you DO want to run this .exe file before you can open it. It's an "all in one" rebrander, so it's much easier than the old style ones.
2. Click on each program that you'd like and enter your affiliate ID. Neither is required, but that's how you earn money.
EasyPLRID – This is your ID for the EasyPLR.com affiliate program.
Learn more here.
AffiliateNichePackID – This is your ID for the AffiliateNichePack affiliate program.
Learn more here.
3. Next, click the "Rebrand" button.
4. A pop-up will ask where you want to save the new file. Save it somewhere you can find it.
5. Please open and check the branded pdf to make sure everything branded correctly. Just open that pdf and mouse-over the links inside. Also, click on one or two of the links inside to ensure everything is working as it should be.
6. Now the fun starts! Spread that report all over the internet for maximum exposure and profits!
If you've never done this before, here's a video that I recorded for another report that demonstrates how the software works:
Example How the Branding Software Works
Of course, if you have any questions, contact my help desk and we'll help you out. (Please include your Clickbank ID and any other links if you need help with branding.)
That's it for today. Have a great weekend!
Warmly,
Nicole Dean