What's an Internet Marketer's Home Office Look Like?
It's another Expert Briefs, where I ask really smart business owners to answer your burning questions.
If you've missed past Expert Briefs, you can click on the undies to see them all –>
This week I asked our panel of experts a question that I knew would spur me into action. (I needed to clean my office…) 😉
"People oftentimes ask about my home office and how I've set it up. I thought it would be fun to share pics or videos of our offices this week.

Give us a tour and show us where you work."
---
My home office is centered around my 27″ iMac. About a year ago I got my wife an iMac, and I was so impressed by it that I bought one for myself. In the photo, you can see lots of kid pictures, a shot of Kyle Field (Texas A&M University), my podcasting mic, and some harman/kardon speakers. My printer is in the desk cabinet (not shown) and there is a big leather chair for reading on the other side of the room (behind the camera).
The office is enclosed, which is perfect for podcasting late at night. In the past (in my PC days) I had multiple monitors. But with the iMac I find that the single 27″ monitor is plenty.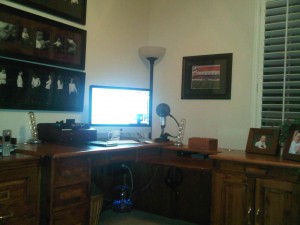 If you look closely in front of the monitor, you can see my MasonWorld coffee mug. I have a Keurig single cup coffee maker in the kitchen, and that is probably just as important as my iMac.
Nicole's Notes:
– Coffee is goooood.
– Love the pics of the fam!
---
Melissa Ingold of Internet Marketing Sweetie sent in this video:
Nicole's Notes from watching this video:

– Melissa is too stinkin' cute. 🙂
– She likes plants, too.
– Light is super important to me, too.

Too Funny!

When Melissa opened her binder in the video, I realized that we're studying and learning from the SAME private newsletter and we didn't even know it.
Click here to check it out.
---
Scott Tousignant of FatLossQuickie.com sent in a video, too:
Nicole's Notes from watching this video:
– Scott is too stinkin' cute, too. 🙂
– There's no dust on that exercise equipment!
– I love seeing how everyone organizes their days. Love your promo calendar!
---
Well, I have a lovely home office where I have a nice desk, shelves for my books, a filing cabinet, some white boards and other stuff you'd expect in an office. But I never use it and because it's in a bit of disarray, you're not going to see it. 😉
But what you can see in my photo here is my true home office. I don't like paper, don't really care for sitting at a desk and work almost completely virtually. My office is wherever my laptop and/or iPhone goes. Sometimes that's sitting on the couch, sometimes sitting on the bed (snuggling with my toddler and boys) or in a coffee shop. Simply put…wherever.
Nicole's Notes:
– It's funny how some people prefer the separation of work and family and others do fine in an immersion. For me, I prefer to have my office separate so there's a line between work time and mommy time.  I think it's also partly how my brain is wired. I don't have music playing, podcasts going, or any noise normally while I work. I find it easier to focus. You must have a better filter than I do. Mine is malfunctioning. lol!
---
Nicole Dean of .. here! .. says:
I recorded a video, too.
Things mentioned in the video…
– Note the dust on my keyboard. lol!
– Get a comfy chair. It's hard to work with a messed up back.
– If you want the "Maverick" Poster I have, it's part of this program: Maverick Learning.

– You'll note we all have planning/brainstorming methods. (I have my whiteboard & my weekly action list that you see in this video.)
If you'd like to post photos or videos of your office on your blog, comment here with links so we can check it out.
Also, let me know what you think of these videos. 🙂
Warmly,
Nicole Dean
PS. I have created brandable reports from several of the previous Expert Brief columns that you can use to earn commissions by giving them away.
If you're new to expert briefs, don't miss these favorites: