Day 3: Computer Butt Challenge
Welcome to Day 3 of the Challenge. I'm so proud of us!
Here's a workout from Scott that will gets you outside in the fresh air and burning calories. If you set a timer for an hour, worked hard at your computer, and then went outside for 5 minutes – did a few of the exercises in the video and repeated that cycle a few times, you'll be burning a bunch of calories – and getting a little fresh air and sunshine, too! Even if you don't have a hill by your house, you can still do this on flat ground.
As for me, I'm really enjoying Angie's Sizzlin' Circuits workout. My favorite part is that I don't have to think about what to do. I do enough thinking in a day. 🙂 I just get to follow along. It's like having Angie in the room, chillin' and working out with me. For instance, I really like the standing side leg lifts and lunges. They're easy on the brain, but hard on the legs!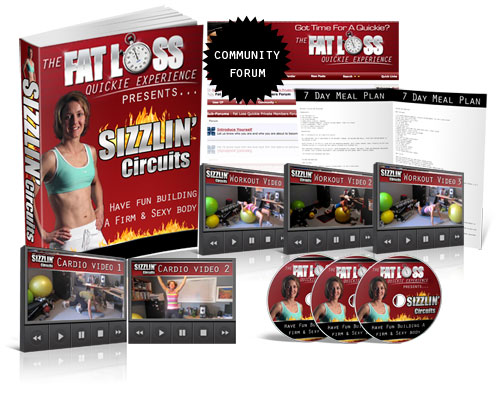 It's only $10.
http://www.fatlossquickie.com/Sizzlin-Circuits.php
Note: Scott has a few other programs if you prefer to choose one of them.
– Fat Loss Quickie 10 Minute Home Office Workouts (Excellent!)
– Rock that Body (For a more advanced workout.)
Please post your update today so I don't have to hunt you down. 🙂
((hugs)) to all and thank you!
Warmly,
Nicole "Can't wait to shop for new jeans" Dean
PS. Tomorrow, I will have some hula hoop tips from our friend, Angela Wills, to help you incorporate hula hooping into your workout. Watch for that.
If you missed the first few days, no worries, jump in at any time!