Weird Wednesday: My Obit List
Hi again. It's Weird Wednesday time.
This week's Weird Wednesday Website was suggested by my mom, Patti Winker, of RemarkableWrinklies.com in this post: If I Should Die Before I Wake – Having The Last Word
If you're new to Weird Niche Wednesday, you're in for a treat. I find weird niches and websites and we get to discuss whether it may be a viable niche and also have some fun.
Today's Weird Niche Wednesday is about a morbid topic, with a clever solution. And, of course, there are lessons to be learned, as always. 🙂
The site is MyObitList.com – and it's one duty is to deliver, upon your passing,  a notification to your contacts. The emails are written by you and can be either sent via bulk to your distant friends, or they can be customized (with a personal note of love) and sent individually to your dearest friends and family.

Yeah, I told you that it was morbid. However, it's oddly comforting, as well.
Here's a video about their service:

What I like about this from both a business and a person aspect:
1. There's a story behind the business.
The owner of the site – Steve Naremore, lost his father-in-law unexpectedly and was given the task of contacting all of the 60 people who would want or need to know. It was not only an incredibly time-consuming and arduous task, but it was also emotionally draining for him, too. He sought a solution to help others who end up in that position so they can avoid some of the pain during such a difficult time.
Lesson: Always look at problems that you face in your daily life. Problems = Potential for Profit.

Lesson: From a business and a person perspective, stories sell. My best-selling products always have a story behind them. People can relate and connect to you as human and you have more credibility, as well, when you share a story that explains why you're doing something.
2. Not everything has to be a continuity program.
Another aspect of this website that I really like is that it's a one-time fee. I would be uncomfortable charging people from today until their passing in order to maintain their contacts.
Lesson: Consider the feelings of your customer when designing your pricing structure.
3. Video can help to break the ice.
You notice that the video is made from cartoon drawings? You don't always have to push emotional buttons to get people to take action. And, in fact, I would have been VERY turned off had they had crying people in the video.
Lesson: Video marketing works.
4. Turning a negative into a positive.
The people who sign up for this service can send personal notes to certain contacts. I love how they emphasize that this is a way to tell those you love that they're important to you – one last time, when they might need to hear it the most.
Lesson: Yes, I'm a big sap.
So, let me have it. What are your thoughts on this website and on this niche?
Would you use it?
Would you tell others about it?
What do you think of their marketing?
Warmly,
Nicole Dean
---
Where Can You Learn More about Finding a Hot Niche Market?
Recommended Resource #1

My friend, Susanne creates Niche Research Packs and can help you to determine if you're entering a profitable niche or not. She's done the research for you.
In each pack, you get…
Detailed niche description
Who your target market for this niche is
List of affiliate products available
100 domain name ideas (plus list of modifiers for hundreds more)
Detailed keyword report for over 1000 keywords
100 article and blog post ideas
15 different author resource boxes
2 different detailed marketing plans (beginner and advanced) with action steps to get you up and running right away.
List of available PLR products for this niche
Recommended tools and resources
Here's the link: Niche Research Packs
Recommended Resource #2: Free Webinar by Kevin Riley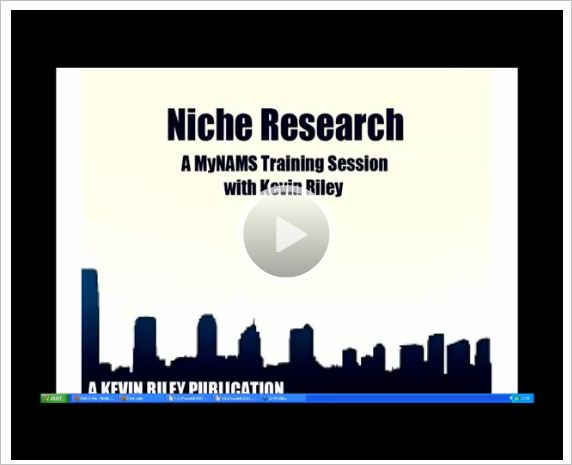 Click on the arrow to go to the page where you can listen.
(You'll find this hour long webinar free to listen to on that page.)