Free Content for your Blog: PLR Rewriting Checklist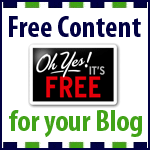 Hi I'm back with another "FREE Money-Making Content for You"Friday!
Friday is the day where I give you free content that you can use on your blog – with your affiliate link, to make money with affiliate marketing. Hurray!
Not only that, but it's copy/paste ready for you to profit.
So, yep. You can make money by publishing free stuff. Pretty cool eh?

Of course, rules apply.
Here you go:
---
PLR Rewriting Checklist
To Rebrand this Report here and give it away for profit –> click here
Excerpt: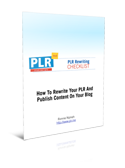 Are you ready to tweak, re-write, and publish your PLR in 7 minutes or less?
Using this super simple step-by-step checklist, you'll be re-writing titles, adding value to your blog posts, and publishing your PLR content faster than ever before.
You'll also learn some incredibly easy formatting tweaks you can make to juice up your content to ensure people not only read the words, but take the
precise action you want them to take.
Click to Download and Read this Free Checklist
---
Choose whichever fits best for you, add your aff links and post it on your blog and/or send it to your lists.
I hope you like these!
Remember, for lots more Brandable Reports, just click here: Free Brandable Reports
Thanks!
Warmly,
Nicole Dean