A Bear on a Bicycle? The importance of Good Copy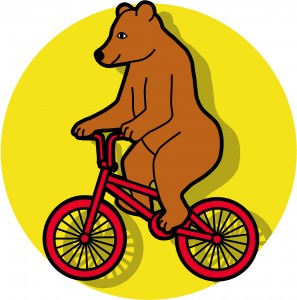 A few weeks ago, I had a tremendous giggle reading this story. (It's only funny because I know that the man is alive and well).
Teacher OK after crashing into bear on a bicycle
Why did I giggle? Well, silly, I couldn't figure out why the bear was on the bicycle in the first place. Was it a trained circus bear? Had it escaped from a zoo?
This, my friends, is the reason why proofreaders and copywriters exist. To avoid miscommunications like those.
Of course, in this instance, it was funny — and thank God the Teacher is ok.
However, there have been many instances of really poor headlines — some of which are seen on Jay Leno. 😉
In fact, I found a site that offers lots of "Headlines gone WRONG!":
Here are a few of my favorites for your sick and twisted delight:
Panda mating fails; Veterinarian takes over — I wouldn't want to be THAT Veterinarian!
Enraged cow injures farmer with ax – How the Cow swung the ax without having thumbs is beyond me!
Stolen painting found by tree – That's one smart (and scary) tree!
Never withhold herpes infection from loved one – No comment.
If strike isn't settled quickly, it may last a while – Duh?
Oh yeah, baby. That's why good copy is essential to your online business, too. Words matter. The order of the words, the specific words that are chosen can make an impact or make you look downright silly!
If you're looking for the perfect proofreader or copywriter, I invite you to check out Shelancers.com.
If you'd like to know what to DO once you've found that perfect copywriter — I recommend OutsourceWeekly.com
Have a great week!
Nicole