Free PLR: Health Articles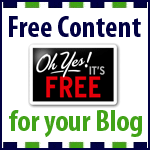 Hi I'm back with another "FREE Content for Your Blog" Friday!
Friday is the day where I give you free content that you can use on your blog. Hurray!
Today's free PLR is for anyone in the health niche. So, if you've got a blog or website that helps people to be healthier and happier, this is for you.
The free health PLR articles that you can get today are:
Walking for Fitness – 5 Articles
This package includes:
1. Walking Is The Perfect Low Impact Exercise
2. The Many Health Benefits Of Going For A Walk
3. How To Get In The Habit Of Walking More
4. Using A Pedometer To Get Your Walking In
5. How Walking Can Help You Lower Your Blood Pressure And Strengthen Your Heart
This package includes:
Why Making Over Your Morning Has A Huge Impact On Your Entire Day
Define Your Perfect Morning
Finding Time In Your Busy Morning
Determining What You Should Be Doing Is Crucial
Come Up With A New Morning Game Plan
The Importance Of Habits And Routines
Take Time To Review Your Morning Routine Regularly
If you want to get notified of other content shortcuts and freebies, sign up here.
That's it for today. Have a great weekend!
Warmly,
Nicole Dean