Free PLR: Health Articles
Share the love & make a difference.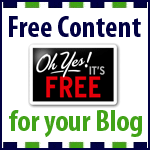 Hi I'm back with another "FREE Content for Your Blog" Friday!
Friday is the day where I give you free content that you can use on your blog. Hurray!
Today's free PLR is for anyone in the health niche. So, if you've got a blog or website that helps people to be healthier and happier, this is for you.
The free health PLR articles that you can get today are:
* The Power of Antioxidants
* Top 10 Power-Packed Foods
* How to Overcome Emotional Eating
* Effective Steps for Managing Anxiety
* Five Easy Toning Exercises You Can Do Anywhere
There's no optin required to download the articles.
Click here to Download the Free PLR
Be sure to read the offer on the download page. You can get more health PLR at a discount.
That's it for today. Have a great weekend!
Warmly,
Nicole Dean