Personal. Here's what you may not know about me.
Hey Good Lookin'! I hope you're having an awesome day.
If you've been with me awhile, you know I try to keep it light and bright and fun here. I always try to make you smile when I write these notes and when I write my emails.
There's a reason for that.
I'm honestly not sure where this is going to head today, but I feel like I need to share. So I'll plop this out there and then let you decide.
Over the years, I've shared about how I've struggled with anxiety for many years. In fact, in 6th grade, I went to the doctors where they said that my stress levels were causing me to start to get ulcers. Yeah. Sixth grade.
Pretty much after that and into high school, as the overachiever that I am, it developed into major depression along with anxiety.
It got progressively worse until in January of 1992, when I was hospitalized to protect myself. I had decided to die by suicide. My dad was very confused by my change of attitude. I had become nearly giddy after weeks of sadness (which is apparently a common sign to look for). But first, I promised my dad that I would go with him to a counsellor's appointment, so we went. The counsellor spotted that I was in the final stages, despite my outward appearance. I was sent to the hospital.
I got a nice 21 day stint in the hospital, including all of the fun bits, like losing my shoelaces (because I could try to hang myself with them) and lots more. I got to do Occupational Therapy – making sun catchers and arts and crafts. I had private and group therapy. And, of course the meds. All the meds. The worst part was I did not get much fresh air. I love fresh air.
In the 26 years since then, mostly around the holidays and winter, it comes back with a vengeance. (This is why oftentimes you can go weeks without hearing from me during those times.) Yes, I discovered much of the depression is / was medical. Thyroid, vitamin D deficiencies, etc. (Always get those things checked if you have depression.) But even as those are regulated, the darkness remains – on a lesser scale, but it's still there.
I honestly have not looked at the news about Kate and Anthony. I am still personally reeling from Owen Wilson's suicide attempt in 2007 and the loss of Robin Williams in 2014. And, I know that reading the details is not a healthy thing for someone like me. With a past like I've had.
Each a brilliant, sensitive, creative entrepreneur, JUST LIKE US.
This is NOT a club we want to join!
I know the stats. And they are ugly.
Each year 44,965 Americans die by suicide. 
Again, I don't know where this is going, but I do know through friends and family members how horrible it is to find someone they love gone, by their own hand.
In most cases, they had NO clue that it was coming. They were blindsided and shackled with that memory of finding their loved one and the confusion and guilt that accompanies it —  for the rest of their lives.
That's part of the problem. It's NOT being talked about. When I was at my darkest, I honestly though that I was doing the right thing and that the world would be a better place WITHOUT me in it.
Over the years, I've talked with dearest friends who I know suffer from depression. And, I've also talked with my husband and my kids, too.
I've explained to them the impact that it would have on me if they were to die by suicide. One friend, I spoke with after he was hospitalized, said that he had never thought about the impact on his friends and family. He said he would never put me through that. I hope he keeps his word. Because I love him. And he makes my world a better place.
I reminded them each that I am always here, always, to talk to if those thoughts come.
I opened the door for them to come to me, without fear of judgement, and they know that they will ONLY get love and help.
One thing you know about me is how much I love to travel. I talk about it all the time.
Do you want to know a dirty secret of mine? Only my closest friends have known until now.
I keep planning out trips, and adventures (even little ones), on my calendar so that I have something to look forward to.
Because I know that on my darkest days, I NEED to have something to look forward to.
No, I don't believe that I would or could, at this point, hurt myself, for many reasons, but mainly because I know the impact that it would have on my children and my husband. We've talked about it.
The doubt, confusion, pain, guilt, and a lifetime of terror and nightmares. I could not hand that to them.
But …I do not know the future. If I do have thoughts, I know that I can re-focus on the good things I have coming, when I have things to look forward to.
It's just a trick I play on my own mind.
It's obviously not as simple as that. I wish! I just wanted to share and that's where that headed.
I do one other thing. When I get very very low, I go through pictures of my life from when I was 18 years old until today. And, I think "I almost missed ALL of this because of one moment. One decision."
I look at pictures of my kids, my husband, my friends, and the silly things we have done together.
And, I cry. And I cry. And I cry. The kind of big ugly cry that needed to get out with lots of snot.
And then I sit in gratitude. Because I didn't miss it.
So, that's probably more than you ever wanted to know about me.
And if half of my lists unsubs now that you know all of this, it's ok, as long as one or two of you are nodding your heads and feeling a bit more understood and loved today.
If you're appalled that 123 people in the US die each day by suicide, here are some ways to help. If you need help yourself or for a loved one, check the PS for resources. I will add more if you comment with the ones you love.
I'll be back with all kinds of goodness soon.
Big hugs,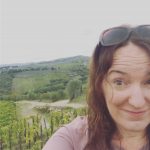 Nicole Dean
I also like: https://afsp.org/find-support/ and https://save.org/
Suicide crisis lines by country:
https://en.wikipedia.org/wiki/List_of_suicide_crisis_lines