NAMS: Niche Affiliate Marketing System Review
I have some fun news. I was in Atlanta this month attending an event called NAMS which stands for "Niche Affiliate Marketing System" workshop.
The focus of NAMS is all about building your online business, growing it, and experiencing the kind of lifestyle you're working towards.
Guess what? I'll be leading some of the workshops next year. (Yay me!)
If you're interested, be sure to grab your spot now for the January 31st event.  There's a huge discount that you can save a ton of money on the ticket. (Plus, it's 100% fully refundable if something comes up and you can't attend.)
Click here to learn more about NAMS.
Here are some pics from the event: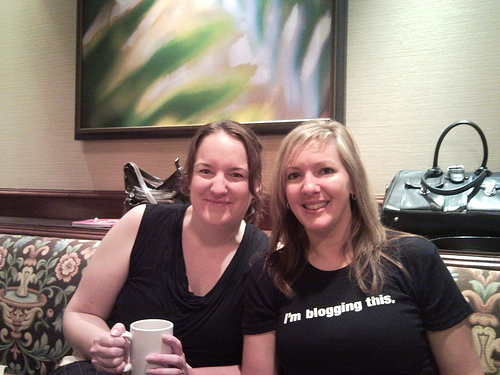 That's me and Lynn Terry. Don't you just love her shirt?!
You can order that shirt "I'm Blogging This" at Think Geek
.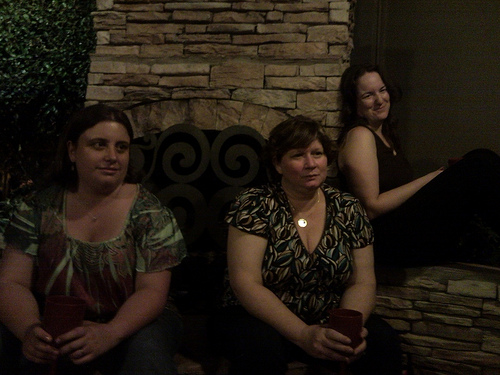 That's Susanne (The Hillbilly Housewife), Tracy Roberts (Love Impossible), and me.
ok. The full scoop.
What I really liked about NAMS:
1. One of the things that I really loved about the event was the fact that it was a workshop, not just lectures. I saw a lot of attendees actually making progress and trying new things while they were at the event. Usually at these types of events, people take a bunch of notes, go home and then do nothing because they either forget the details or they get overwhelmed. So, this type of setting really pushes you to make progress.
2. Another aspect that I liked was that the workshops were broken down by skill level. After our big pep talk in the morning, we broke into smaller rooms of beginners, intermediate, and advanced. I was in the advanced room, which was a pretty intense, serious business masterminding experience. Intense but with serious results. I popped into the intermediate room to hear one of Willie Crawford's talks (about arranging JV partners) – and those were a lot more relaxed. The beginner room was a lot of fun.
3. I also enjoyed the fact that we ended each day in the same big room again as a group. It allowed David Perdew to wrap up the day, give away some goodies, and let us know what we were in for the next day. Then, we all left the room together and headed out to dinner and drinks and discussion. It kept us from becoming too segmented and made sure that the beginners and intermediates walked out of the room with the people who could help them.
4. Good people. I was thrilled at the level of helpfulness and overall goodwill at the event. Some events feel "closed" and this was like family. In fact, David's lovely bride (an Opera singer) sang "Amazing Grace" on Sunday morning and brought tears to the eyes of many of the people in the room.
5. Mostly Pitch-free Weekend. At many seminars you feel slimy at the end of every presentation because it's nothing but a sales pitch – no real value. This was not that way at all. The entire weekend was packed with actionable content and only one or two product/coaching suggestions tossed in, which I didn't mind one bit.
What could be improved for next time?
I've already said all of this to David, and he's really receptive to feedback so I'm happy to share my thoughts in public here.
1. The theme of the weekend got a bit confusing. Although the event was called "Niche Affiliate Marketing" the lectures/workshops included all kinds of info-product creation, too. While this was fine for the advanced group, I think it confused some of the newer marketers.
2. I would have liked to see the beginners & intermediates have more list-marketing workshops. My lists are my livelihood and I think that really should have been included.
3. The hotel had WONDERFUL staff and they went above and beyond on every front except for one minor thing. The internet was not reliable, which becomes a big thing when you've got 100 plus people all trying to be online at the same time. Not good. I understand that the event will be at a different location in January, which is unfortunate, since the staff was fabulous. However, an internet marketing workshop really needs internet access.
4. I wasn't crazy that the beginner group started off with Ning and Cagora. I felt that they should have addressed getting their first WordPress blog up and running first. However, I did discuss this with Lynn Terry on Friday night of the workshop and she made a point to find the attendees that had zero internet real estate of their own and get them started with a blog during the weekend.
Wrap up.
I can't even begin to tell you how cool it is to sit and talk with Willie Crawford, Jeff Herring, Kathleen Gage, and the rest of the brilliant people that were there. And, leaving was like the end of summer camp. I had tears when I hugged people good-bye. But, don't let that worry you. It wasn't cliquish at all. It was my first time attending, so it's not like being the new kid trying to get in with the others at all.
But – there are only a few days left to grab the hugely discounted NAMS tickets. If you even  *think* you might like to hang out with me, Willie Crawford, Bob the Teacher, and Lynn Terry in person and share a meal, a drink, and a conversation – then grab a 100% fully refundable spot (Three day workshop).
Here's the scoop: Click here to learn more about NAMS.
It's a fantastic event with wonderful people who truly care. If  you can swing it, I highly recommend attending.
Thanks so much for putting your trust in me. I appreciate it greatly!
Warmly,
Nicole Dean
PS. Granted, I'm  speaking so I don't have to pay for this one other than my airplane ticket and hotel expenses, but I DID pay to attend earlier this month and I would again if I wasn't a speaker. So, I put my money where my mouth is. 🙂
And, just for fun, some more pics: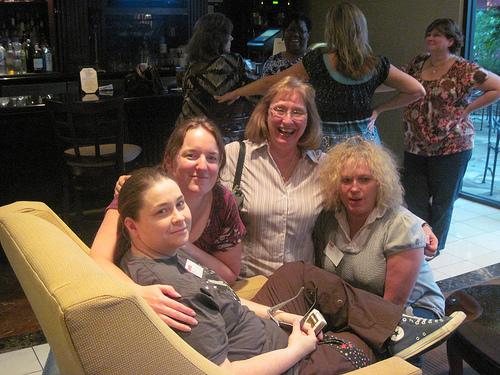 Loretta Oliver, me, Mary Blackburn, Gail Richardson.
Click here if you'd like to join us at NAMS.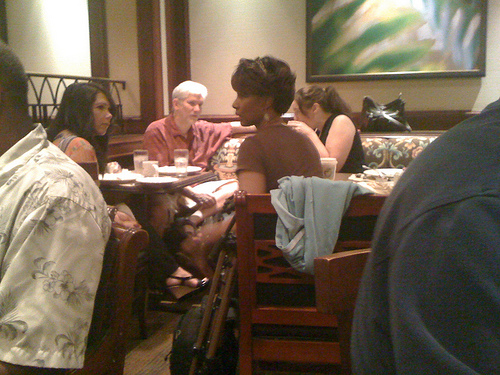 Me having breakfast between Jeff Herring and Lynn Terry. Guess whose head is on the left side? Willie Crawford.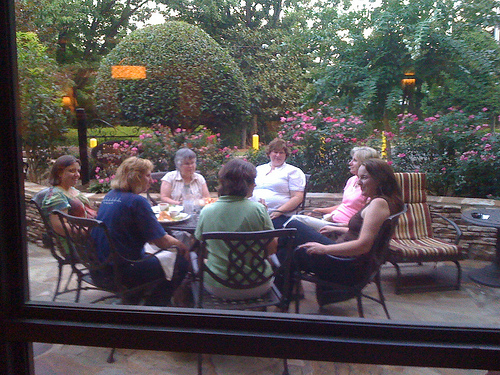 Me and a bunch of great people from this Masterminding Group.
Thanks for reading. I can't wait to hear your comments. And, I'd love to chat with you in person at NAMS.