Weird Niche: Breaking Dishes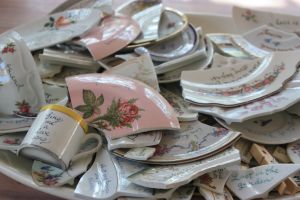 Today's weird niche of the week is all about letting out your inner frustrations without yelling at your boss, giving your landlord the finger, and without kicking your dog. 🙂
It's called the Smash Shack and you'll have to see it to believe it:
I started looking around the site and thought "Oh my gosh, what a total waste of dishes for nothing when they could be given to people who need them."
But, I was determined to look around and see if there was more to it than met the eye. And, I've got to say these guys are not only innovative, but pretty darned clever marketers, too.
First, check out their About Page. Nicely done with a good story and likability. They aren't just weirdos with anger issues who don't care about anything but having a good time. They're kind of cool people.
Click to read -> About Smash Shack.
Then, I went to look around some more and found that they've designed their rooms to include a viewing area as well as allowing their patrons to bring their own music. May I suggest the Smashing Pumpkins
? HA! Bet they've never heard THAT one before… 😛
Click to read –> Their Available Rooms.
So, I'm starting to think "These people just might have something here." So, I keep looking around. Next I find that they've incorporated a MOBILE unit – which just sealed their fate with me. They have a good business sense. Taking your business to where people ARE rather than trying to get people to come to you. Brilliant. Always a smart thing. And, then I read the description of their mobile unit and was even more suitably impressed by the thought and detail put into every inch of the plan. You have to see this part.
Click to read –> Mobile Smashing Unit.
After all of that, I headed over to pictures and testimonials and I realized that I had to come around. The patrons genuinely look like they're having a good time, and it's all in good fun (although I do hope that they're recycling the glass).
Click to see –> Smashing Pictures.
So, as usual, I would like to comment on the business and the site.
Is there a NEED for this business? No. But people don't normally spend money on needs. They spend it on wants. (Who looks forward to paying the phone bill? Not me!)
The owner was having a bad day and had one thought "I wish there was somewhere I could go and just break stuff." Sometimes that's all it takes to come up with a brilliant (and profitable) business idea. In this case, she did the one thing that I preach day after day here. She took ACTION!
Could the website do a better job to build their business? Yes. It could. Is it conveying their message? Obviously it is since I came around from "Ug. Self-centered college kids" to "Cool idea" in under a few minutes. 😉
I also would, again, like to applaud their idea for offering a mobile unit and going TO their customers, rather than waiting for customers to find them. I hope they're getting a lot of repeat business from that mobile unit. It's highly clever.
On that note. I'll be back next week with another Weird Niche Wednesday. Hope you enjoyed!
Warmly,
Nicole