Surviving Summer While Working From Home With Kids
It's another Expert Briefs, where I ask really smart business owners to answer your burning questions.
If you've missed past Expert Briefs, you can click on the undies to see them all –>
Summer is in full swing and a lot of people have been asking me about my kids daily to do lists and how I keep them motivated around the house every year during the summer so I can get work done. Instead of just me posting, I thought I'd put the question out to get even more feedback.
So, this week I asked our experts….
If you have kids at home —
how do you manage your home
during the summer to actually get work done?
Include schedules, too, if you have them. Thanks!
I hope you find something in this week's post to help make your own summer break a little less stressful.
---
This is the first summer I've noticed a big difference, because last school year was the first both my girls were in school from 8:15AM-3PM.
All of a sudden in early June I went from having all those (quiet!) hours in a row to myself (minus the drive them to and from school time) to having my girls home 24/7. Yikes!
So I cut back on my work a bit. And I got a reliable babysitter (my Mom and Dad!) to watch them on Tuesdays and Thursdays from 9:30AM til their Dad picks them up on his way home from work. They all get back in at about 3:30 or 4 PM.
The rest of the time while they are home and occupying themselves, I do the kind of work that doesn't require silence like writing an article, editing a video, or writing a sales page and save the work that requires silence like shooting videos, recording audio content, doing teleseminars, conducting interviews, and more for the two days a week I know they'll be away.
My girls are 9 and 6 and play together nicely, with the occasional yelling, "MOM! She said she wouldn't let me play with her toy!!!!" I'll handle those moment. I stop to feed them snacks & lunch. And everything else gets planned around their schedules, honestly that's as normal. I never miss a field trip, I volunteer in school when needed and am fully present for them in their lives. This summer they took tennis and swimming lessons, both in the mornings, so I used the time to clip coupons, walk around the courts for exercise, or answer email on my iPhone.
I also never plan to work on Fridays (or the weekends) so I save our adventures and fun for those days.
Finally, my 9-year old started a business this summer http://PetPortraitsByGrace.com, so I helped her get her website up and now she keeps busy during quiet time with her drawing work, while my younger daughter naps (yes we are nappers in our house!). I answer emails and do more writing. And I coach my daughter in running her business, customer service, and doing her first speech!
For me, I never want to lose sight of why I started my business: to be home to take care of my girls. They are my priority. Work comes second. It's an easy choice for me. I now have enough systems in place and I rely on various assistants and outsourced help to get things done, and I enjoy my life and my business.
---
This is my last 'lucky' summer so I am taking advantage of it. Why lucky? Because my girls' preschool is year round, meaning I don't worry too much about keeping my kids busy every day. However that is about to change as the girls hit kindergarten in the fall.
And because I am a planner (and it's never to early to start), I've already laid down the foundation for keeping my girls busy so they stay out of my business.
First is, you need a plan. The girls did have 2 weeks off in early summer and will have 2 weeks off before the start of their new school. So I had to plan how to use that time to keep them occupied. I scheduled a special 'field trip' with them every day. Sometimes it was to the pool or sprinklers; other times it was a picnic in the park or a trip to the museum. I'd have them mark it on the calendar and set a time with them to do it. That way, they knew if they 'behaved' they would get their treat.
I also cut back my hours, which I planned on in advance. So instead of working 25 hours, it's down to 20. That five hours made a BIG difference.
I also gave them a checklist each day of what they needed to do. Because the girls are only 5, I kept it simple and used some images to help. Think: feed the dog and cats; remind mom at XX time that she has 30 minutes before we all go on our field trip (this helped their learn about telling time); etc.
I planned play dates and asked for help from other moms to take the girls for a bit. That helped keep them busy (and out of my hair).
The key is to keep them active AND responsible – and use the time you have to get the work done.
---
It's a balancing act at our house, that's for sure. I am lucky because my husband is home and he shoulders a lot of the "keep the kids" busy stuff and I head off to the local coffee shop for quiet work time. We also have them registered in a variety of activities to keep things interesting. There is also a local Boys and Girls Club, so we can kick the boys out whenever they get antsy. 😉
But one thing we are doing differently this year is getting our two eldest involved in doing work for me. They've had WordPress blogs for a couple of years now and they've been tooling around with those, but know we're getting more serious. I've shown them how to make a time sheet and keep track of their hours and they're pumped to see the dollar figures grow. My youngest boy is 8, so he has been working with our site builder at http://internetbasedfamily.com and will be helping me with some promotions for that site. The oldest will be 10 this year and he's been working with our Speedy APLC Publisher to load PLR articles and I'm slowly teaching him about search engine optimization. So while it slows me down a little bit to teach them and keep them focused, I know it will be worth it for me, and especially for them, in the long run.
The youngest is just turning 3 in August, so she isn't ready for internet marketing tasks just yet, but sometimes I'll pass her the iPad while I work (which Nicole kindly gave me through an affiliate contest). Then my daughter tells me, "I workin' too," while she finds her favorite show on Netflix or plays with her cake maker or currently favorite app.
---

Susanne Myers of AffiliateTreasureChest.com says:
We don't have much of a schedule during the summer and mostly play stuff by ear. We do a lot of traveling and are spending quite a bit of time at the beach this year. Both my husband and I work from home and carry our smart phones and laptops with us wherever we go.
Here are a couple of things we do to still get work done.
Morning Work Routine
We're not morning people and our daughter isn't' either (thankfully). She's perfectly content to spend the first few hours of the day in PJs reading and playing. I also have her do some summer worksheets.
I use that time to get my most crucial work done including content and product creation as well as customer support email, staying in touch with my VAs etc.
Smartphone
I carry my phone with me anywhere we go. This way I can check emails and respond to them while we're driving somewhere (hubby is driving of course), or while watching the rest of my family play in the water.
It's important not to get too addicted to checking the phone every few minutes. You still want to spend quality time with your family. Just find a balance that works well for you.
Task Lists and Being Super Focused
Here are a few of the things I do to stay focused.
Work on one project at a time.
Break it down into small manageable chunks.
Focus on one "chunk" at a time whenever you have a few quiet minutes.
Cave out more little pockets of time whenever possible.
Above all, enjoy the time with your family and just live with the fact that you won't be as productive as the rest of the year.
---
Nicole Dean of .. here! .. says:
My kids are 9 and 14 but this is the system that we've been using since they were each toddlers. Why? Because it's the closest thing to sanity that I can arrange here.
We have a daily checklist that the kids must complete before the TV goes on, the computer goes on, or any game systems get turned on. They also must complete their daily list before friends are allowed in the house.
I found that, if I left the time limit open, that the lists wouldn't get done. However, if they know they can work through it faster and be "free" of my tyranny – they work through it better. 🙂
Here's their list. You can click on it to view it in pdf format.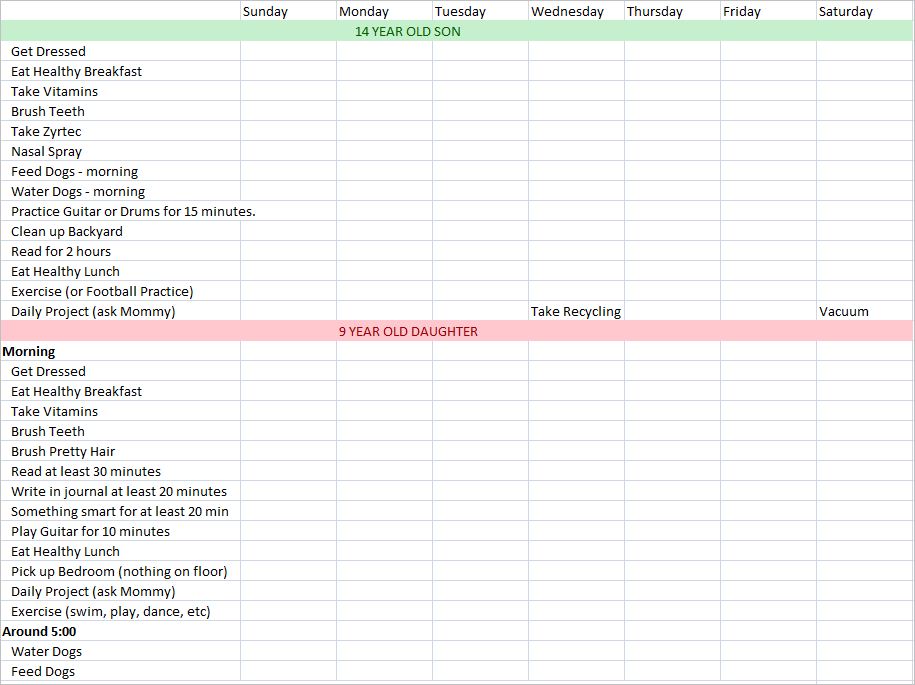 I print it out weekly and they just check off the days as they go through them. If everything gets done during the week, they earn bonuses. For instance, my son has a Gamefly account. He keeps it as long as the backyard is cleaned up daily. If there is an issue, he gets downgraded from 2 games/month to 1 and then to zero. It really never becomes an issue. He's really very self-motivated when he knows the rules. My daughter on the other hand… is a bit more of a battle.
My son is also starting to do some work for me in our business, but I'm not utilizing him enough yet.
Confession Time: Actually I lost my mojo this summer, so I took off the entire month of July and stayed offline.  I decided to pretty much just punt and not to fight it too much, and instead spend as much time as possible enjoying the kids. I'll be sharing more about that soon.
Now I'm back online, but am trying to work 1-2 hour days – Monday-Thursday for the rest of the summer. Some days, I work 10 minutes – just to quick check email for emergencies. Others are closer to 3 hours, but will be averaging about 4-8 hours per week. Am I letting some things drop? Yes. But, I'm finding that the important things, like getting a pedicure with my daughter – are getting done. And, I've been happier in general.
---
Please share your tips. I'd love to hear them.
Warmly,
Nicole Dean
PS. Here are some related posts you might enjoy –