Free Content for your Blog: 2 New Articles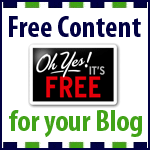 Hi I'm back with another "FREE Money-Making Content for You" Friday!
Friday is the day where I give you free content that you can use on your blog – with your affiliate link, to make money with affiliate marketing. Hurray!
Not only that, but it's copy/paste ready for you to profit.
So, yep. You can make money by publishing my stuff. Pretty cool eh?

Of course, rules apply.
You can't edit the articles in any other way.
You have to keep the author's name on there. In this case, me.
And, you must link to the author's product in the article through the resource box. (BUT you can use your affiliate link for their product.)
Here are the latest articles…
Just click through, copy/paste the article onto your blog. Change the link in the article to YOUR affiliate link for that product so that anyone who clicks it and buys will earn you money for referring them.
6 Reasons why you Should Sell your Ebook on Clickbank
Clickbank.com has paid out nearly $2 Billion to online business owners just like you in the last 10 years – and that number is growing fast. Yet, for a lot of marketers, Clickbank has a bad rap. I'd like to spend the next 2 minutes showing you why you absolutely should sell your ebook on […]

4 Common Misconceptions about PLR Content
Recently, in an interview, I was asked this question: "Can you explode any misconceptions that stop people from using PLR content?" Here is my answer. There are four main myths that I run into regularly. 1. The biggest misconception that people have is that all PLR is crap. 2. The second biggest misconception is that […]
What if you're an infoproduct seller and YOU want to recruit affiliates with your articles?
If you're an infoproduct seller and you would like your articles to appear in this directory (and be blasted to a list of potential affiliates), here's the scoop:
Click here to learn how to add your articles to FreeAffiliateArticles.com
That's all for today! Now go grab some articles.

Warmly,
Nicole Dean
PS. My Assistant has Google Alerts set for my name and is instructed to bookmark every blog post that he gets notice of that mentions me. 🙂  So, I'll hopefully be sending you some traffic in thanks for sending me some. I think that's only fair to do, don't you?
Your site will be bookmarked by either one of these two sites: