Free Content: More Money-Making Articles for your Blog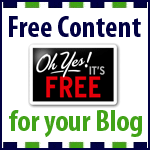 Hi I'm back with another "FREE Money-Making Content for You" Friday!
Friday is the day where I give you free content that you can use on your blog – with your affiliate link, to make money with affiliate marketing. Hurray!
Not only that, but it's copy/paste ready for you to profit.
So, yep. You can make money by publishing my stuff. Pretty cool eh?

Of course, rules apply.
You can't edit the articles in any other way.
You have to keep the author's name on there. In this case, me.
And, you must link to the author's product in the article through the resource box. (BUT you can use your affiliate link for their product.)
Here are the latest articles…
Just click through, copy/paste the article onto your blog. Change the link in the article to YOUR affiliate link for that product so that anyone who clicks it and buys will earn you money for referring them.
7 Ways to Tell if your Affiliate Program Stinks Here's a question that I get asked regularly by frustrated infoproduct sellers. "Why aren't my affiliates promoting my affiliate program? And, how do I get more to sign up?" Dear Infoproduct Seller: I can tell you in a heartbeat whether or not your affiliate program is attracting loyal, motivated affiliates… or not.

Did you Love the Movie "Julie and Julia"? You Can Live It! Have you seen the movie Julie and Julia? A woman, Julie Powell, decides to dedicate a year of her life to cooking all the recipes in Julia Child's first book while blogging about the adventure. What Julie didn't know at the time is that you can blog for profit!

Dear InfoProduct Seller, Women are from Venus Here's a question that I get regularly from frustrated infoproduct sellers. "My target market is women, and I'm having a hard time getting them to promote my products. They just seem unmotivated. I don't get it. Does my affiliate program stink or am I recruiting bad affiliates?"

4 Reasons Why I'm Promoting your Competition and Not You Today, I'm sitting at my computer, about to launch a new site and I'm going through Clickbank, looking for potential affiliate programs to promote. Not only am I considering personally promoting the products that I find, but I may recommend that customers who purchase my PLR articles at EasyPLR.com promote them, too. Here's the problem.
What if you're an infoproduct seller and YOU want to recruit affiliates with your articles?
If you're an infoproduct seller and you would like your articles to appear in this directory, here's the scoop:

Click here to learn how to add your articles to FreeAffiliateArticles.com
That's all for today! Now go grab some articles. 🙂
Warmly,
Nicole Dean