Free Content for your Blog: Money-Making Articles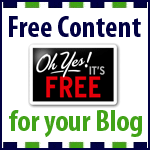 Hi I'm back with another "FREE Money-Making Content for You" Friday!
Friday is the day where I give you free content that you can use on your blog. Hurray!
I'm not sure if you know this, but a lot of infoproduct sellers and authors provide great expert content that you can publish on your blog as a "featured guest expert post" or as a "guest blogger post".
AND… you can even promote the author's product IN the article using YOUR affiliate link.
So, yep. You can make money by publishing other people's stuff. Pretty cool eh? 🙂
Here's the place to check it out…

Click here to get Brandable Reprint Articles.
Of course, rules apply.
You can't edit the articles in any other way.
You have to keep the author's name on there.
And, you must link to the author's product in the article through the resource box. (BUT you can use your affiliate link for their product.)
What's the advantage of using these articles instead of publishing articles from EzineArticles.com or the other article directories?
Simple. Cash. You can promote the author's products inside the article, in the author bio, and even at the end in a "Recommended!" section.
What's the advantage of this over using PLR articles?
Of course, I recommend both. But, the advantage of using expert content is name recognition in the articles, mainly. You'll have a featured expert. Of course, the other advantages are that you'll have a built-in promotion – instead of having to go find something to promote.
And, of course, you'll get the opportunity to network with the authors after publishing their stuff. Be sure to tweet the author or tag them on Facebook after you publish their articles. Don't be surprised if you make a friend or two. 🙂
What if you're an infoproduct seller and YOU want to recruit affiliates with your articles?
If you're an infoproduct seller and you would like your articles to appear in this directory, here's the scoop:

Click here to learn how to add your articles to FreeAffiliateArticles.com
That's all for today! Now go grab some articles. 🙂
Warmly,
Nicole Dean