Free Rebrandable PDF: Melissa Ingold Interview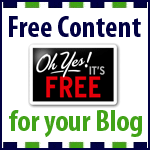 Hi I'm back with another "FREE Money-Making Content for You" Friday!
Friday is the day where I give you free content that you can use on your blog. Hurray!
Today, I have a new rebrandable report ready. It's the transcript of my interview with Melissa Ingold.
Here's an excerpt:
Nicole Dean: The next question is, what advice would you give to your own mother, sister, or best friend to help them succeed in their online business?

Melissa Ingold: My sister is getting into building a business and one of the first things I said to her is that she really, really has to want it. It's the only way that she'll stick it out and get to a point where she's actually a success. You have to really, really want to make it happen.

I see and hear so many people they come online, but they expect it to just be so easy…
To Rebrand the report, see instructions below.
There are SEVERAL opportunities to profit with this report. However, only ONE link is required to brand this report.
Before you Begin, Make Sure You're an Affiliate of CoachingPLRContent.com:
If not, sign up here: CoachingPLRContent Affiliate Program Signup
You can find your affiliate ID in your account by looking for the number that appears after the "r=" as shown below:
Once you've got that number handy, you're set. Just follow these instructions .
1. Open this .exe Rebrander File. Your security settings may ask you to confirm that you DO want to run this.exe before you can open it. It's an "all in one" rebrander, so it's much easier than the old style ones.
You'll see this screen –
2. Click on each program that you'd like and enter your affiliate link.
Required Field:

CoachingPLRAffiliateIDHere (Here's where you enter your ID from Coaching PLR Content)

Optional Affiliate Programs: Enter the ones you want and leave the rest blank.

For each of the programs below, you'll enter your URL for that site – leaving off the "http://" portion. You may enter redirects if you like, but you MUST leave off the "http://" portion of all of the links that you enter.

Links will open in a new window so you won't lose your place.

Optional field:

ClickbankID (this is your username for Clickbank)
3. Next, click the "Rebrand" button.
4. A pop-up will ask where you want to save the new file. Save it somewhere you can find it.
5. Please open and check the rebranded pdf to make sure everything branded correctly. Just open the rebranded pdf and mouse-over the links inside. Also, click on one or two of the links inside to ensure everything is working as it should be.
6. Now the fun starts! Spread that report all over the internet for maximum exposure and profits!
If you've never done this before, here's a video that I recorded for another rebrandable report that demonstrates how the software works:
Example How the Branding Software Works
Of course, if you have any questions, contact my help desk and we'll help you out. (Please include your Clickbank ID and any other links if you need help with branding.)
That's it for today. Have a great weekend!
Warmly,
Nicole Dean