Day 4: Keeping Fit with a Hula Hoop
The Computer Butt Challenge continues. Several of you have expressed interest in learning how to use a hula hoop to get fit. So, I asked our resident hula hoop expert for a guest blog post. Here it is… and be sure to post your exercise update below.
Guest Post from Angela Wills of www.MarketersMojo.com (You can listen to a free interview that Angela and I recorded here: Nicole Dean Talks with Angela Wills about Mojo).
---
Keeping Fit With a Hula Hoop
Ok, So Nicole asked me if I'd write a post about Hula Hooping.
I know what you're thinking – that's for kids! Oh no. This is different.
I don't use that little plastic hula hoop you can find at Wal-Mart or a dollar store. Hula Hooping is now for adults. It's called weighted hula hooping. And believe it or not there's a whole culture and a whole bunch of people who are hoop dancing for indoor fitness.
I became obsessed with learning about it after I saw Marissa Tomei on Ellen (DeGeneres) talking about hooping. Then I went to YouTube and found a whole bunch of tutorial videos on hooping, how to hoop and how to make a hula hoop. I was hooked!
So this summer I made my first hula hoop and I recorded a video on the tools I bought to create it. Here's the video:
So what do you need to make your own hula hoop?
How to Make a Weighted Hula Hoop
– 1 inch irrigation tubing (can get at Lowes)
– coupling to connect tubing (buy at the same place as the tubing)
– ratcheting tube cutter
– blow dryer to soften the ends of the tubing
– tape
That's it! It took me literally minutes to pop the tubing together and then about 20 minutes to tape it. I'm sure you could take longer to tape if you were being really careful and cautious about making it look perfect but I wasn't too worried.
How to Start Hula Hooping!
Next – the hooping! It takes a while to get the hoop to stay up. But I found it helpful to aim for a certain number of hoops. For example – at first I just wanted to do five hoops around. Then I upped it to ten hoops. Then up to twenty. Then I could hoop to a whole song! Then I hooped for ten minutes.
Oh yea – and it's so fun to hoop to your favorite songs.
I'm not there yet but over time as you get better you can learn neat tricks too. I see this being the sort of exercise that doesn't feel like exercise and that's what I LOVE about it. I love to dance but I don't often just turn on the music and bop. But with hoop dancing I am motivated to get better and better – so it's a daily challenge I can tackle.
Are You Ready to Hula Hoop?
I hope this post has inspired you to go grab or even make yourself a hula hoop. If you do decide to try it, let us know! I look forward to hearing what you think about hula hooping for indoor fitness.
---
Thanks, Angela! That looks fun. 🙂
Hula Hooping could be a great addition to any exercise routine. I believe very strongly in diversifying your workouts which is why I enjoy circuit training (like in Angie's program below). I get bored quickly doing the same thing every day (I have very little patience for tedium). Plus, I don't get as good of results when I *just* swim or walk or bike or rollerskate as I do when I do a a bunch of different things. So, variety is the spice of life – and it's also the key to losing your computer butt.
Here' s the workout that I'm doing this month (which incorporates a variety of exercises) – although I'm definitely thinking I might have to get a hula hoop, too. lol!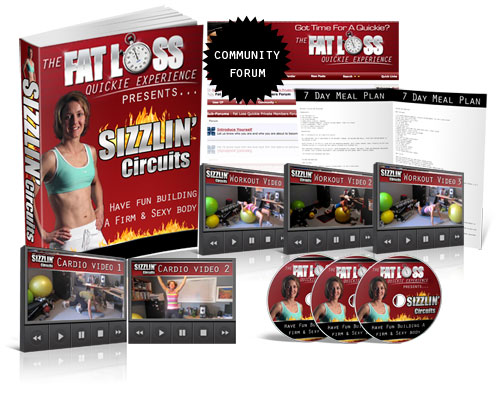 You can grab this program for only $10 here, if you'd like to join me:
http://www.fatlossquickie.com/Sizzlin-Circuits.php
Please post your update today and let me know what you think of the hula hoop idea.
((hugs)) to all and thank you!
Warmly,
Nicole Dean
PS. If you missed the first few days of this challenge, no worries. Jump in at any time!