Computer Butt Challenge: Join Me?
Hi! Last year around this time, I hosted a month-long challenge to get rid of Computer Butt. It was a ton of fun and it got a lot of us moving out of our swivel chairs – if only for 10 minutes at a time. And the best part is that the participants, including me, noticed results. We looked better, felt better, were more productive — and did I mention looked better? 🙂
Well, Thanksgiving and Christmas are around the corner, along with cookies, pies, and mashed potatoes (YUM) so I figured it was time to do a little damage control. I connected with Scott Tousignant (of Fat Loss Quickie fame) to see what he was up to, and he said that his wife, Angie, just released her Circuit Training course last week. "It focuses on the butt – and it's only $10."
I thought, "Well, heck, look what I got myself into now. I may have to actually do this again."   So, I started coming up with excuses and grilled Scott, trying to get out of it…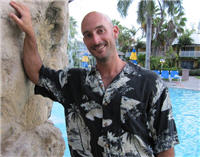 Me: Is it less than 30 minutes? My people won't do it if there's too big of a time commitment.
Scott: Yes.
Me: Does it require thinking? I want something that I can do that allows me to turn OFF my brain for a few minutes during the day.
Scott: It's a circuit and it's very easy to follow.
Me: What about coordination? (At this point, I was getting desperate for an excuse…) I don't want to learn any complicated steps.
Scott: It's nothing harder than you've done in the last challenge. And, it's the exact workout that has worked really well for Angie to trim her butt.
Me: Crud. It really works?
Scott: Yes. So? You in?
Me: ((sigh))
Scott: Nicole… don't make me…
Me: ok. I'm in.
But, before I recommended it, I, of course, had to give it a try. So, I did the first two workouts last week. And, I have one word for you – OUCH. (In a good way.)
Here's the program I'm doing – which was designed by Angie Tousignant (Scott's awesome wife) to turn your computer butt into a sexy butt: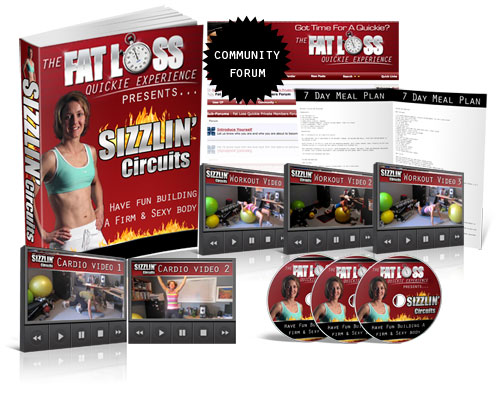 It's only $10 so I'm not even using my affiliate link because I think it's so underpriced and I want Scott and Angie to keep the cash.
http://www.fatlossquickie.com/Sizzlin-Circuits.php
I am going to spend the next month going through Angie's program. And, you can follow along either by watching and cheering me on or by doing the challenge with me.
Either way, you are invited to read my journey and see what happens.
And, since I like to give you an honest review of everything I recommend, the only constructive feedback about the course that I have is –
1. When I downloaded the files, the names were workout1, cardio1, so I had to rename them Monday, Tuesday, etc, to know the order. (I'm sure Scott can give instruction on that or rename them.)
2. In the videos, Angie is so busy working out that she doesn't give as much instruction as I'd like. I wish she'd chat a bit more, but I can understand she's focused on demonstrating the workout that she's not exactly feeling chatty. God knows I couldn't carry on a conversation while I was doing it! That was the same issue I had with Scott's workout. I'd be on the floor doing something and not realize he'd already gotten up and was on the next thing, because I couldn't see my computer screen. lol! However, this is a very small issue. I'd just like to know if I'm doing things right, so a little more verbal instruction would be awesome.
3. I didn't know what HIIT meant and it's all over the sale page so I had to Google it. It's High Intensity Interval Training (basically circuit training).  <- Note: Business lesson there. Always use the language of your customer. 🙂
Scott and Angie are GREAT friends and I know Scott is very "real" so I can share both the good (which there is much of) as well as my thoughts of what can be improved as he's awesome like that. Plus, Scott's an ethical marketer, too, so he knows I have to be 100% honest if I want you guys to believe what I say, right?
If you are unhappy with the way you look and feel, feeling fatigued, and not getting a whole lot done during the day, I hope you'll consider joining me.
Here's how…
---
Step One: Grab the Sizzlin' Circuits Course.
If you'd like to join me in the challenge, and I hope you will, just sign up for the program.
http://www.fatlossquickie.com/Sizzlin-Circuits.php
Note: Scott has a few other programs if you prefer. (These are aff links.) 🙂
– Fat Loss Quickie 10 Minute Home Office Workouts (Excellent!)
– Rock that Body (For a more advanced workout.)
Step Two: Comment Below to Let Us Know You're In!
Just post a quick comment to let me know that you're in. That you want to shrink your Computer Butt with me.
Step Three: Check in Daily M-F with your Update.
Scott and Angie both said they'd come by every day to check on things and answer questions, so grab the course, and do workout #1 today. I'll check in after I finish it. (Last time I had to do it in three parts because I was pooped so don't be afraid to rest if you need to. That's the great thing about video. Angie will wait.) 😉
Step Four: Sign up to Get Updates.
Then, be sure to sign up for my email updates (see the right nav to sign up) so you get your daily reminder to come back and check in .
---
It'll be pretty boring just listening to me all month, so I neeeeed you to participate, pretty please?  Videos, audios, and cross-blog posts are welcome, as well.
Let's find some time every day to get healthier so we can enjoy the LIFESTYLE that we're working towards.
I hope you'll join me. (Please don't make me do it alone!!!) 😉
((hugs)) to all.
Nicole
PS. I'd love to give away prizes to those who stick it out with me and really get into the contest. Any ideas for what you'd like to win?

Note: You can follow all posts by keeping an eye on the Computer Butt category to the right.