Free PLR: Ebook Marketing Articles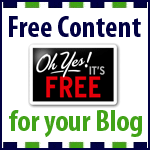 Hi I'm back with another "FREE Content for Your Blog" Friday!
Friday is the day where I give you free content that you can use on your blog. Hurray!
The  free PLR articles that you can get today are:
The Real K.E.Y. To Becoming A Successful Ebook Writer
3 Idea Hangouts For Finding Red-Hot Ebook Topics
How To Stand Out From Your Competition For Extra Sales
Since I'm traveling, I'll cheat a bit and send you the note that I sent to my EasyPLR.com customers on Wednesday so you can see the full story and grab the goodies. 🙂

---
Hi. It's Nicole Dean from EasyPLR.com with a gift for you that I know you'll love.
Today I have some free PLR articles to share with you.
Here's the story….
My friend and mentor, Jimmy D. Brown, has, for the past 10 years
provided QUALITY training for internet marketers. I've been his student
myself since 2005, paying every single month to learn from him.
Yes, he's THAT good. 🙂 And, he's taught MANY of today's present day
"gurus" much of what they know.
So, obviously it's pretty shocking when he releases PLR rights
to that same content.
However, I realize that not everyone is aware of how awesome Jimmy is,
so I asked him for some free PLR samples to share with you.
Of course, being the good guy he is, he said "yes".
So, here are three totally free PLR articles that you are welcome to use,
written by the man himself:
FREE PLR Articles from Jimmy D. Brown
If you'd like more top notch PLR like this, I strongly recommend that
you head over soon to check out his amazing PLR offer. It will only be
available a bit longer.
Click here to check out this offer.
You can get 10 reports & salespages, plus articles, ecourses and more.
BUT! After you order, be sure to come back to get your bonuses from me, ok?
— HOW TO CLAIM YOUR BONUSES —-

Here's how it'll work.

First, and most importantly, check out the offer and see if it can
make you money in your online business.

Here's my link:
Click here to check out this offer.

IF and only IF the offer is something you can use, then keep reading.

CHOOSE YOUR BONUSES!

After you purchase, email your receipt to helper@easyplr.com and
let us know which *TWO* of the following bonuses you'd like…

Option #1. Credit in EasyPLR Articles.
After you buy, you can choose
any 3 article packs from EasyPLR.com and we'll send them to you.
Note: Reports are not included. Articles must not be marked 'sold out'.

Option # 2. Blog critique from me.
Yes, I'll personally review your blog in
video format and send you the link to watch. I'll give you my un-edited
thoughts for improving your income from your blog through list-building,
content, monetization, and traffic. (Value? I don't sell it, so no idea.) 😉

Option 3. My Blog Tour Guide.
Learn how to Guest Blog on other high-traffic sites for increased traffic. (Currently sells for $17)
Note: Personal Rights Only, not PLR.

Option #4: How to Get your Product on Clickbank.
Learn how to take the reports you're getting from Jimmy and sell them on Clickbank.
(Currently sells for $27) Note: Personal Rights Only, not PLR.

So, if you want it, go here and get it:
Click here to check out this offer.

Then, follow these steps:

1. Email your receipt to helper@easyplr.com

2. Tell us which TWO bonuses you'd like.
If it's #1 – list the 3 PLR article packs you'd like.
If it's #2 – include the link to your blog and any questions you have.

We'll verify that you purchased the PLR and then send you an email to get the rest.
That's it, guys, except that I'm still thinking about bonuses, so
you may get extra surprise goodies after the fact, too. You know
that's how I roll. 🙂
Have a fabulous day. You deserve it!
Warmly,
Nicole Dean
http://www.EasyPLR.com