What I Learned About Myself at Exposure and Profit.
I just returned from Kelly McCausey's Exposure and Profit event in Atlanta, where I had the honor of speaking. I talked about Leveraging your Affiliates through an Affiliate Contest.
I shared the WHY I do what I do behind my successful contests (specifically my most recent affiliate contest) and gave important points on where to follow what I do and when not to.
I've talked a lot about the benefits of going to live events like this one, but I don't know if I've ever shared specifics. All I can tell you is that I come back a different / better version of myself after each one.
Sidenote: Ladies, do consider coming to Beach Cruise, Beach Camp, or Beach House this spring. <3
So HOW am I different in general?
Sometimes I learn a new marketing trick that I can instantly implement.
Sometimes I learn a business shortcut or strategy.
Sometimes I discover a speaking strategy from watching the speakers connect and impact the audience and I soak that up.
Sometimes I have an adventure inside or outside of the event that opens my eyes or just brings me joy and makes me thankful to be alive.
Sometimes I learn how to be a healthier, happier, more impactful human being on this earth.
Heck, on a few trips, I discovered brilliant nuggets and met amazing people at the airport.
The key to growth is that I'm always looking. Always paying attention. Alway open to the possibilities that miracles and wonder and joy are around me at every breath I take.
Click To Tweet
So after unpacking (both literally and figuratively), here are just a few ways this event changed me.
1. My Heart Grew Two Sizes that Day.
I have known Kelly McCausey since 2004 when her community crowned me "Work at Home Mom of the Year". Yes, I actually got a tiara. 🙂
I wanted to get closer to her, but I was afraid to join her community at that time, because we were in direct competition. I thought she'd think I was in there to rip her off.
I learned instantly that Kelly saw us as two women who both wanted to make an impact and she KNEW that we could make a bigger impact and change the world together so much better than we could apart (or with me hiding).
She's drawn me out of my shell in a million ways since then, as my first mentor and now as one of my best friends on earth. And she is my business partner and we make magic together at Beachpreneurs.
AND she continues to love on me and inspire me in new and surprising ways all the time. And yes, I'm tearing up a little. She's just that special to me.
Kelly had decided to participate in St. Baldricks, which is an organization that raises money to fund childhood cancer research. You take a stand and raise funds and then shave your head on a certain date. She had done it one time before so I was happy to see her do it again. (Click the link and donate!)
What I did NOT track at the time was that she was going to shave her head AT HER OWN EVENT!!! My ego could not even process that.
So, as the time drew near, I started to get nervous for her on her behalf. I knew she was fine, but I was being challenged by her strength and bravery to face my own stuff.
When it was time, she turned to me and said "Will you do it, please?"
I literally about lost it. I said "yes", of course and then started thinking of how to do this in the most gentle way possible.
But because this isn't about me. It's about Kelly and the kids, I will just show you my friend being brave and being impactful and being incredibly FREAKING awesome.
At the event, our mutual friend,
Paul Taubman
, was asked "How much do we have to raise for you to shave your head, too?" He laughed, but knowing Paul's soft side, I knew he was thinking.
And sure enough, he said that if we could double the amount donated, he would also participate.
And we did. And he did.
I hope that it inspires you, too. Not necessarily to do St. Baldricks although it's a great organization, but to do the thing that you feel led to do that would make a difference.
2. Awareness of My Own Impact.
A few years back,  I went to Radical Leadership (as have most of my closest friends) at the invitation of my smart, joy-filled, beautiful friend, Therese Sparkins (formerly known as Therese Sparby).
It is the gift that keeps on giving. I soaked it all up back then, as the person I was. And, I still keep growing from it today as I evolve, which never ceases to amaze me.
One of the things that Therese taught me at RL is about having an awareness of my impact and asking myself "Is this the impact that I want to be having in this moment?"
And then determining without judgement either "yes" or "no". It's not an opportunity to shame myself, but rather a moment of saying "if not, why not, and what do I want to do about it?"
Is this the impact I want to be having in this moment? If not, why not, and what do I want to do about it? - Lessons from Therese Sparkins.
Click To Tweet
There were two instances this weekend where my answer was "Nope". So I pivoted. And I was so glad that I did.
And yes, I'll share them both. <3
After the head shaving, Kelly planned a wig party. I brought three wigs (in case anyone needed one).
I went to put mine on, and struggled, and then Therese put hers on and she was radiant… just radiant. She helped me put mine on and I felt … not.
So my first instinct was to just say "screw it" and take it off and go downstairs.
And, I stopped. "Nik, is that the impact you really want to have in this moment in time?"
Sigh…
"Nope."
So I swallowed my ego and shifted. I put some powder on, pivoted my attitude to one of gratitude and fun, and slapped on some lipstick and headed downstairs with Therese.
And this happened.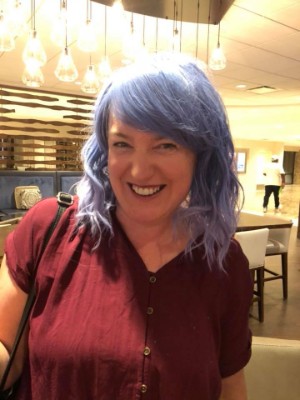 And this, too!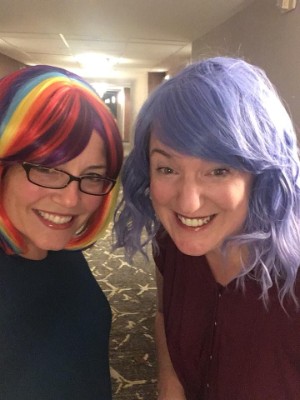 And this!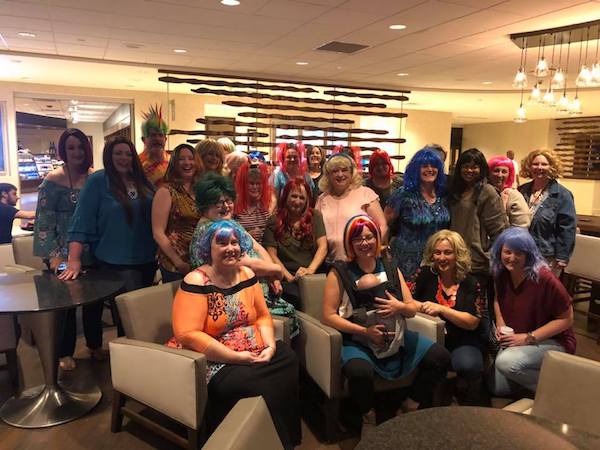 After the wig party we headed upstairs to the conference room where the all awesome Maruxa Murphy was going to play DJ to a dance party.
And this was the second impact check.
I didn't dance. I don't know why I didn't dance. I didn't feel cute or confident. I thought I would just watch and enjoy my friends.
After awhile, I just felt myself sitting there and I thought "Is this really how I want to remember tonight? Is this the impact I want to be having for myself and for others?"
And, I said to myself "nope".
Right at that moment, one of the attendees grabbed a beach ball off the Beachpreneurs table and started an impromptu game of volleyball in the conference room.
I joined in.
And I had FUN. Genuine JOY. Total elation.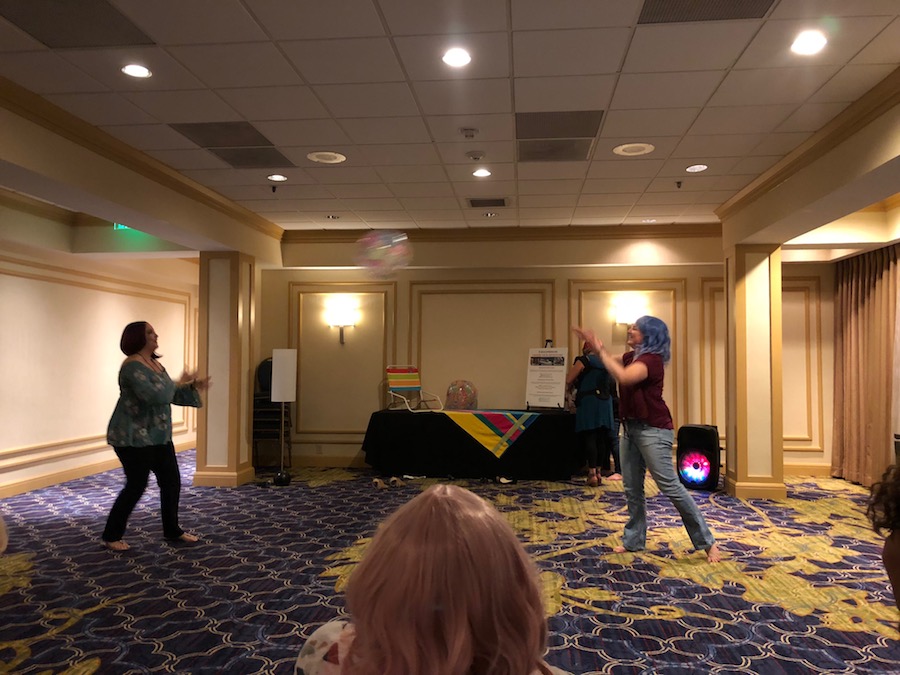 Here I am playing with the brilliant Jena Rodriguez (in our wigs).
My knees are still a bit bruised from diving for the ball on a concrete floor, but they make me smile. 😉 #allinbaby
I could have continued to sit. Worried about my stupid shirt that kept flying up and whether I looked flabby. Or a number of other insecurities. And that would have been fine. The night would have gone on.
But I didn't. And I'm glad.
3. Knowing What I Want and Not Disappointing Myself.
If you've been here for half a second, you know that my favorites things are adventure and fresh air. (Sushi is up there, but if I had to lose one, I'd be saying "sayonara sushi".)
I knew I wanted an adventure on this trip. I love Kelly's events, but she and I have talked a lot about this and she knows that I crave doing something fun and memorable outside of the hotel when I'm visiting a city.
She graciously asks for a 66% attendance from speakers and 100% heart and focus during those times we are in attendance. That's totally fair. When I'm there, I'm there in heart and soul as if it were my own event. In fact, some attendees think we partner on EP. 😉
The weather looked stinky on the forecast, so I was looking at things to do inside.
I started to feel like it just wasn't going to happen, and I was getting sad. I looked at the conference schedule and couldn't see a time where I could sneak out with a few people without negatively impacting the event in some way.
I was starting to tell myself "You are an introvert. You aren't the party planner! What are you even trying to do here?"
I knew it was BS. But that didn't matter.
I was just about to give up when I decided that wasn't an option. Yes, I could go home without an adventure.
But as Jim Rohn says "regret weighs tons." (The full quote, if you're curious, is "We must all suffer from one of two pains: the pain of discipline or the pain of regret. The difference is discipline weighs ounces while regret weighs tons.")

We must all suffer from one of two pains: the pain of discipline or the pain of regret. The difference is discipline weighs ounces while regret weighs tons. - Jim Rohn
Click To Tweet
Or also said by one of my favorite poets…
So I got a small group together to go to an Escape Room. And Kelly happily wiggled the schedule a bit so that it would work out without negatively impacting the speakers and their offers.
Easy peasy. Adventure planned.
I wasn't sure if I'd like it but I loved it so much.
And we escaped the room with 6 minutes to spare! Woo!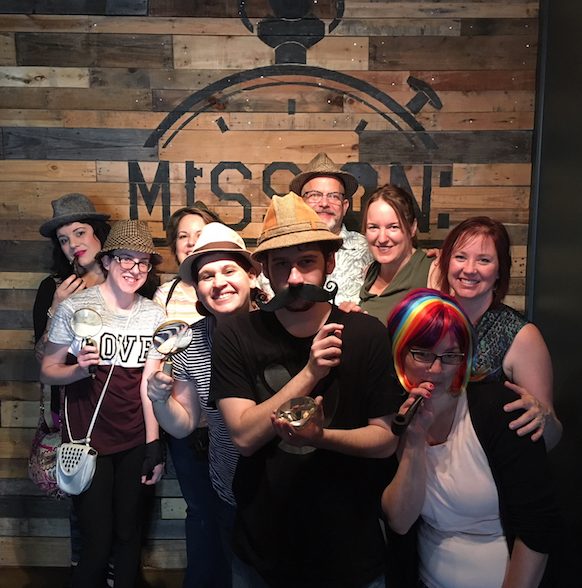 In addition to Paul and Therese (still wearing that wig! lol.), you may recognize Cindy Bidar, Rayven Monique, and Natalie Collins, too!
Go team!!!
The best part to me was watching my friends have fun. And the kids. Because kids. <3
4. Sitting in My Own Comfort Zone vs. Stepping Out.
So, it was time to go home. I was at the airport and my lower back started to hurt. This happens. It's been happening off and on since 2015. Nothing new.
I was wearing comfortable clothes, so I got on the floor on the side of the waiting area and I did some yoga.
Did I feel a bit silly? Yes. Did I get some weird looks? Yes.
But I knew Therese (my friend I mentioned before) wore her rainbow colored wig HOME through airport security and everything. She gives zero craps about what anyone thinks about things like that.
So, get over it, Dean. 😉
Once again, I decided that I really didn't give a crap if I got weird looks. And I zoned out and enjoyed myself.
Because
1. yoga
2. I am a grown-ass woman who can do what I want without worrying about peer pressure.

I am a grown-ass woman who can do what I want without worrying about peer pressure.
Click To Tweet
3. why not?
So this happened.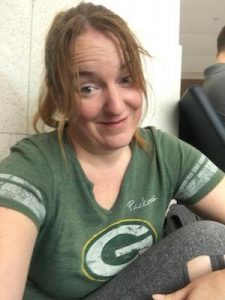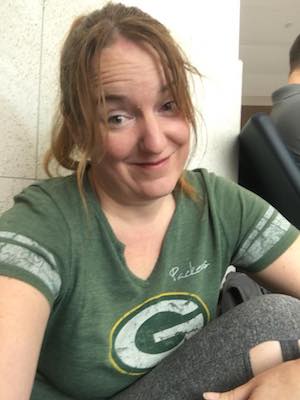 5. The Power of Invitation.
The theme in all of this is that there is such power in putting out the invitation by being the authentic, loving version of YOU.
Kelly and Paul inspired me to play bigger and be braver.
Maruxa and the ladies dancing inspired me to get over myself.
Therese in all her rainbow glory and joy and true unconditional love inspired me to step into it, too.
My friends lighting up over the invite to the Escape Room invited me to be a leader.
Over and over again this weekend, I felt drawn by JOY and people just BEING who they are.
I felt inspired to share and see if I could do a little of the same.
I hope you've enjoyed this peek into my growth.
I would love to hear your thoughts about any / all of it. Seriously, I appreciate shares and I adore comments. Don't be shy.
With love,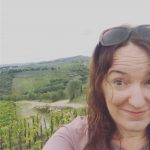 Nicole Dean
PS. It's funny. People go to marketing and business events like Exposure and Profits or Beachpreneurs with the goal to learn marketing strategies and tactics.
That's great. But where I find real growth is usually elsewhere, as per the examples above.
Yes, I soak up delicious business goodness, but the BIGGER, more impactful growth that will move me past roadblocks is usually found elsewhere for me. So go in with the goal to just observe and be open to everything awesome. And report back what magic happens for you.