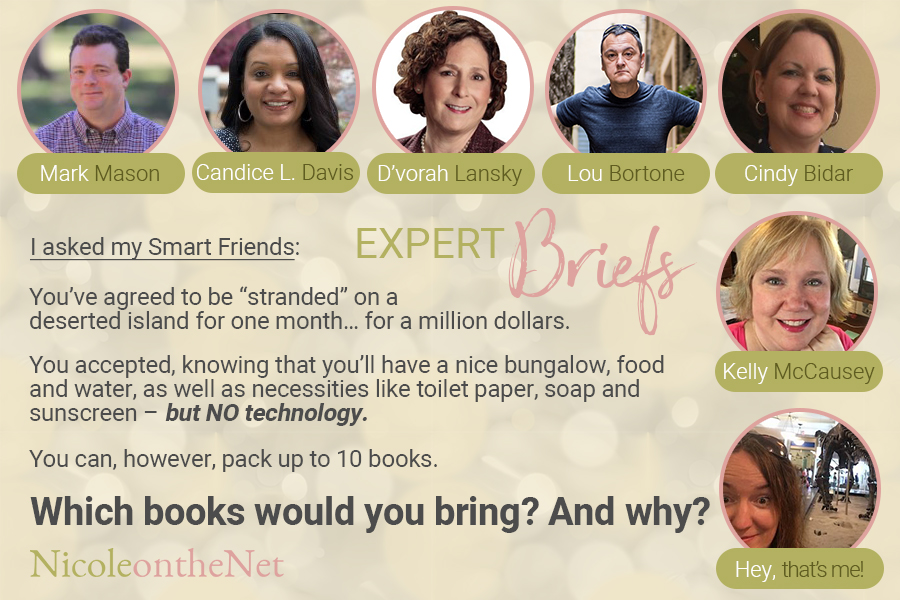 What Books Would You Bring on a Deserted Island?
It's another Expert Briefs, where I ask really smart business owners to answer your burning questions.
The question for my smart friends today is…
You've agreed to be "stranded" on a deserted island for one month… for a million dollars.
You accepted, knowing that you'll have a nice bungalow, food and water, as well as necessities like toilet paper, soap and sunscreen – but NO technology.
You can, however, pack up to 10 books.
Which books would you bring? And why?
I think you'll find the answers this week interesting.
---

I'm rather excited about the million dollars and a month in a delightful bungalow 😉
I just took a 48 hour break from social media – I don't know if I can even imagine 30 days!
Ok, about the books…
I have read, but would love reading again:
I haven't read yet, and want to:
For fiction, can I pretty please cheat and name a series as a single book?
Earth's Children by Jean Auel would be a delightful companion for a long getaway. I've read the first three books ages ago and would love to pick them back up and read all the way through the series.
From Nicole: I adore Kelly. One thing she is SO good at is staying focused. Eye on the prize. She sees her coaching clients struggle with lack of focus, so she's created a training to STOP "Bright Shiny Object Syndrome". Get that here!
---

Lou Bortone
"The Godfather of Video"
LouBortone.com
If I had no iPad or Kindle on the island, I'd have to fall back on my go-to hard copy books. These books are the ones that adorn my office bookcase and are never more than an arm's reach away…
5. Under the Tuscan Sun, by Frances Mayes – This book sparked my passion of my ancestral homeland, and started my love affair with Cortona in Tuscany, where I hold my annual Marketing Mastermind retreat!
4. Influence, by Robert Cialdini – Because, who doesn't want to have more influence?!?
3. Video Marketing Rules, by Lou Bortone – Yes, I'm including my own book and taking it to the island with me! After all, it's the "bible" for online video marketing, and I don't want to lose my edge while I'm lounging on the beach!
2. Think and Grow Rich, by Napoleon Hill – Because I like this island and I think I might buy it.
1. The Godfather, by Mario Puzo – Everything I ever needed to know about business and life – loyalty, Family, power, and the occasional horses head in someone's bed – is in this classic book that launched a movie franchise. How am I gonna get a boat to get off the island? "I'm gonna make him an offer he can't refuse!"
---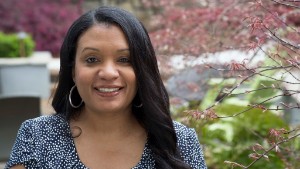 Egads! Only 10 books? For nonfiction, I'd bring "Discover the Power Within You." It's a great reminder of our unlimited potential. I'd also pack "I Know Why the Caged Bird Sings," a memoir by Maya Angelou. Stephen King's "On Writing," would make the list too. Memoirs of writers who beat the odds to succeed at their craft never get old for me.
I'd have to indulge in quite a bit of fiction. Characters are a lot like company for me. If I can count the Harry Potter books as a set, I'll bring all 7. Otherwise, I'd bring "Harry Potter and the Half-Blood Prince," along with "Things Fall Apart," by Chinua Achebe; "Paradise," and "Beloved," by Toni Morrison; and "Invisible Man," by Ralph Ellison. These are all books I can read over and over. Each time, I discover something new about myself, humanity, or the world we live in.
I'd fill the last 2 book slots with books I haven't read yet. Maybe something from someone else on this list!
---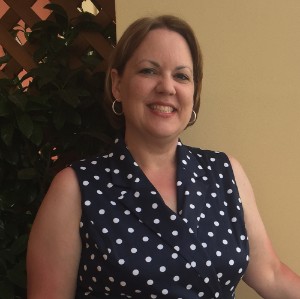 Cindy Bidar
Marketing Strategist
CindyBidar.com
My favorite book of all time is The Stand, by Stephen King, so that one is definitely on the list. I'm also a huge fan of Tad Williams' Otherland series, so at least one of those has to be included.
I can't spend a whole month in fantasy land though. I'd also want to get some work done. I'd love to have some uninterrupted time to dig into Deep Work by Cal Newport. He makes an excellent argument against multi-tasking and our near-constant state of distraction. Even though we think we're being productive, it turns out we're getting far less work done than we are capable of. He also includes some innovative ideas for carving out pockets of time for more efficient work.
10% Happier by Dan Harris is worth another read through as well. His story of overcoming drug addiction and severe anxiety through meditation makes a compelling case study. And with 30 days on a deserted island, I think I'd have plenty of time to develop my own meditation habits.
For business growth, I can't think of better choices than The E-Myth Revisited and The Big Leap. Both books encourage entrepreneurs to work within their "zone of genius" while letting others handle the tasks that they're good at. That's a lesson I'm still learning, so a refresher course is probably in order.
On my reading wish list I have Essentialism by Greg McKeown, The One Thing by Gary Keller, and The Power of Full Engagement by Jim Loehr & Tony Schwartz.
Where do I sign up for this deserted island? I have some reading to do!
From Nicole: I love love love Cindy's marketing checklists.

Check them out here. (Save $10 with coupon code: 10)
---
D'vorah Lansky, M.Ed.
Bestselling Author and Course Creation Specialist
ShareYourBrilliance.com
First of all…. Sign me up! This sounds peaceful and relaxing. Here are the books I'd bring…
Book 1-2: Think Better, Live Better and The Power of I Am by Joel Osteen. I find Joel to be incredible inspiring and I always gain peace and clarity from his words.
Books 3-5: A few books with positive quotes as I find that positive quotes are "food for the soul."
Book 6: The Motivation Manifesto by Brendon Burchard. This is one of the most inspiring success books I've read.
Book 7-9: Mystery Books off of the NY Times Bestseller list. I love me a good mystery. It takes me a way, out of my head and helps me relax.
Book 10: Remodel Your Reality: Seven Steps to Rebalance Your Life and Reclaim Your Passion by Kimberly Fulcher – I find thing book to be motivation and it inspires ideas for creativity.
---
Well, if there was no technology, I simply would not go. LOL But, if you forced me to go, books would be critical. I'd think in terms of what my goals were for my stay.
With all that time on my hands, my goals would be:
1. Spiritual health
Book 1: Bible with annotations (probably an NIV edition)
Book 2: 1 year Bible study guide (would have to research which one)
2. Fitness.
I have always wanted to learn Taekwondo
Book 3: Learn Taekwondo
3. Entrepenuer/Finance Plan for when I return
With a million Dollars to spend, I would want to have some books to motivate/stimulate my business mind
Book 4: Tribes by Seth Godin

Book 5: Crush It by Gary Vaynerchuk
4. Betterment of self
I would want to read the following classics (or read them again)…
Book 6: Jane Austen, Pride and Prejudice

Book 7: Emily Bronte, Wuthering Heights

Book 8: Miguel de Cervantes Saavedra, Don Quixote

Book 9: Geoffrey Chaucer, Canterbury Tales
Book 10: Tolkien, Lord of the Rings Trilogy
So, the point would be that with these 10 books I would return from the island better than when I arrived, with $1M in my pocket.
---

Nicole Dean
Awesome Human, Author, Business Consultant, etc.
From here!
Again, I actually asked this question because I need some good book recommendations. I always strive to make myself a better person so I read as much as I can.
That's part of the reason I try to listen to a book summary every day here.
However, I know already what 5 of the books I'd bring even before I asked the question.
3 Notebooks.
I'd bring 3 empty notebooks and I would spend the month writing. I can't even imagine how much I'd accomplish in that time. Just think how creative you'd be without the distraction of technology.  I could take those notebooks home at the end, and hire a Virtual Assistant to type them all in and, voila!, I'd finally have all of my next books done!
One Journal.
A place to write my thoughts that weren't related to business. I'd write notes about the books I'm reading, letters to my kids, jot down my personal reflections during the long, quiet days, goals, dreams, and ambitions, fears, and any "ah-ha" moments related to becoming a better person.
I think this qualifies.
A photo album of my family. I'd miss my kids too much if I couldn't see their smiley faces.
For my last 5 books, it's more of a struggle. 
On the one hand, I'm thinking I should bring LONG books because I read really fast. Like maybe I could finally read War and Peace or re-read Gone With the Wind.
Decisions, decisions…
CONFESSION: There are books that I'd like to bring vs. the books that I would actually bring.
I'd like to think I'd bring something to make myself a better person, but probably, I'd just bring some steamy super sexy vampire novels. A month is a long time to be alone, if you know what I'm sayin'.  
What I would probably do is to ask some people who I admire what they'd recommend.
Oh wait. That's what I just did.  (Pretty smart, eh?)
Then, I'd get overwhelmed and just grab a few books off my nightstand as I headed out the door. lol. #iknowme
If I grabbed a few books off my nightstand / bookshelf in my room, they would probably be…
2100 Asanas: The Complete Yoga Poses – I would have plenty of time to learn some new yoga poses.
Belong: Find Your People, Create Community, and Live a More Connected Life – I am really digging this.
Essentialism by Greg McKeown – I would love to read this again.
My big World History Encyclopedia. That would be super fun to pour through.
If I didn't do that I would probably pick something from these genres..
A time-management or productivity book. I love them and could read one every day. (Yes, I get the irony there.)
A classic novel that I haven't read.
A biography or autobiography of someone I admire from history. I like to see how people actually handle situations, not just what they "say" they'd do. Actions speak louder than words.
A financial investment book. I'd want to know how to best handle the million dollars that I'll be handed.
Now,  let's hear from you …
---
Your Turn.
Which 10 books would you bring?
If you'd like to answer this question, go ahead and post your list on your blog (with a link to this post if you wouldn't mind) and then comment here to let us know where you posted your book list so we can go see!
Warmly,
Nicole Dean