Free PLR Article: How to Get More Clients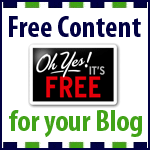 I'm back with another  "FREE Content for Your Blog" Friday!
What is "Free Content Friday"? It's exactly what it says – I'll post free content every week that you can publish on your blog. 🙂
Some of the content that I post here will come with PLR rights. Others will come with reprint rights. Either way, it's free stuff (articles, reports, audios, videos) that you can post on your blog/website or publish in your ezines (and most will include the opportunity to earn some money).
If you missed last week, I posted this free PLR article: What Are 4 Things a Blogger Can Outsource?
If you'd like to learn more about what PLR is and how you can use it in your online business – and stock up on some high quality content, I recommend you swing by www.EasyPLR.com for more info.
ok. Here's the article. See rules/rights for how you can use it in your business (on your blog, ezine, etc.) at the end.
---
Virtual Assistants: 4 Ways to Get More Clients Today!
Alternate Titles:
Ghostwriters/Designers/Copywriters/Service Providers/Freelancers:
4 Ways to Get More Business/Clients/Traffic (Now/Today/Immediately)

If you're a Virtual Assistant (substitute ghostwriter, designer, copywriter, service provider, freelancer), you know that the one thing that keeps your income steady, is a finding clients. Luckily, there are several ways to keep a steady stream of clients coming in through your door.
Here are just a few:
1. Advertise in Ezines.
There are online newsletters everywhere that accept advertising. The key is to purchase advertising in publications that reach your target market and to create your ad to showcase your expertise. Don't try to be everything to everyone or you won't attract clients.
Ad Example of what Not to Write: "Hire me to lighten your workload. I can do everything that you don't want to do. Let's talk!"
Ad Example of what works:  "Are you ready to get more leads to your business? I will handle your ezine advertising campaign for you. No more searching for targeted ezines, no more writing and tracking your ads. I'll handle it all it all. My clients experience a boost in subscribers after I complete my ezine advertising campaigns that will pay for my services. Check out my website for testimonials and free tips."
Recommended Resource: Check out the Directory of Ezines to find Ezines for you (or your client) to advertise in.
2. Write and Submit Articles.
The key is to stay on topic. Don't write and submit articles about health or pet care. Present a problem in your article and solve it. Make sure your author bio is very compelling to attract potential clients.
Recommended Resource: If you've never tried article marketing, I'd suggest this course to get started – www.EasyArticleMarketing.com
3. Network where *successful* people hang out.
A huge mistake that VA's make is to hang out on forums where there are other people struggling to make money. Instead, join a membership site for your target market and you'll find yourself in the "inner circle"
Recommended Resource: The best place to meet new clients is live and in person. The event that I recommend you attend first is NAMS.
4. Advertise at Shelancers.com.
One of the easiest ways to get your name in front of business owners looking for help is to join Shelancers.com.
Again, it is crucial that you list your specialty in order to stand out from the other service providers. But, if you can find a problem that business owners face, and offer to handle it for them, you'll attract loyal clients who will continue to work with you.
These are just a few of the ways you can boost your client base quickly. What are some of your favorite methods? Please share them below.
… Rules for Publishing this Free Article on your Blog …

This article comes with PLR rights.  You may…

Post this article on your website or blog.
Use it in your ezine and newsletters.
Combine it with other articles into a free report to give away to your readers.
Include it in a paid product.
You may edit this article as you wish to add content or include your own thoughts on the topic.

All I ask is that you please link to http://shelancers.com in this article. (Yes, of course, you may use your affiliate link which you'll find at Shelancers Affiliate Program). It's not a requirement, just a simple request. That way we can both make some money and I can continue to offer free content here.

You may add/change any of the other product recommendations, as you wish.

You may give away or sell this article with PLR rights, but, if you do, please include this box.

You may NOT use my name as author for this article, simply because you can edit it, so I wouldn't know what I was saying.
That's it and thank you!
Warmly,
Nicole
PS. Of course, if you'd like more PLR or if you'd like to learn more about what PLR is and how you can use it in your online business, I recommend you swing by www.EasyPLR.com for more info.