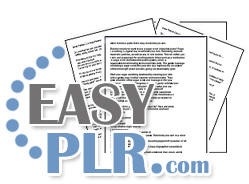 Hi again. This is Nicole. I just sent this to my EasyPLR.com list so, if you're on it, this will look familiar. 😉
I goofed. Actually, on two fronts. ((sigh))
First of all, in the last message I sent, I mentioned that there was an eBook Giveaway here
BUT, I didn't explain that everything at the site was "Brandable" which means that you can customize the items with your affiliate link and give them away or sell them. I'm enjoying reading the great materials and have learned a few things along the way.
Take a peek and see if anything interests you.
And, now for my second goof.
I mentioned awhile back that I was changing shopping carts because the one that I was using wasn't delivering orders reliably.
Well, the joke's on me. I appears that anyone who has ordered MULTIPLE PLR packs any time this month since I've changed to the new cart has not received all of their packs automatically.
So, my helpers and I have been sending them by hand.
Since I rely mainly on word of mouth referrals for my PLR business I want to make sure that YOU'VE received your orders. And, I'm not counting on email to send your message.
So, if you haven't received your order, simply click the "comment link" and tell me. Simple as that. I'll track down your order and make sure you get it.
And, in the meantime, I do hope you'll continue to shop. Just stop by the site and order all the PLR you want.
Again, here are the newest packs.
Twitter PLR Articles (selling FAST! Hot hot hot.)
Time Management Articles.

Pregnancy Articles
And, of course, to see all of the available PLR, check out the site www.EasyPLR.com
Well, folks, that's it for today. I hope you have a wonderful week.
Warmly,
Nicole
PS. Thanks again to everyone who has placed PLR orders. I greatly appreciate your continued business.