Welcome to another edition of Weird Niche Wednesday. I know, I know. After last week's naked duvet cover, I'll bet you were a little afraid to see what I'd post this week. 🙂
Well, I bet you didn't see this one coming!
It's Handerpants – Underwear for your Hands! Thanks to my best bud, Spider, for sending me the link so that I could feature it here.
Watch the video below to see why you need a pair:
What smart marketers they are to be using YouTube to get the word out about Handerpants!
This is certainly a video that not only informs but also entertains.
They talk about WHO their target market is in the video – although I'm not sure they've quite narrowed it down enough yet!  If you watched the video, you get my drift – Stone Masons, the Elderly, Graphic Designers, and Hobos, are just a few. I sure hope you've narrowed down your target market more than they have! 🙂
On their website, they list the features of Handerpants although, any good copywriter knows that you should list benefits along with the features. 🙂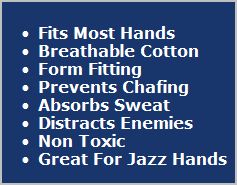 I love this. Can you tell I'm having fun?!
Then, the coup de gras – the end of the website lists several uses for Handerpants. BRILLIANT! Whenever inventing a new product, sometimes it's essential to train the public why they must have it and what it's used for. Educate them so they consume your product and buy more. I'm sure, although Handerpants are durable, you occasionally need to replace them when they wear out.
Takeaway notes from Handerpants:
– Video is a highly powerful marketing tool.
– Humor is a viral marketing tool. It helps spread your message faster than boring marketing does any old day. 🙂
– Sometimes you have to train your customers why they need your product. For instance, I never would have thought about buying Handerpants for doing Jazz Hands. Thank goodness they told me that. Now, I need at least 2 pair. lol!
Please share what you learned from Handerpants below. And, don't forget Handerpants for your loved ones when shopping this holiday season!
Warmly,
Nicole Dean