Day One: Lose Fat Fast – Hopefully!
Day One of the Computer Butt Challenge has begun. I see at least 10 people who've signed up for Scott's program so far, and several who will be doing other exercises like walking. However, Scott does recommend that you incorporate some resistance training along with your cardio, so, his program will work alongside walking or biking or swimming as well.
If you're not signed up yet, join us by clicking here:
Quote from Home Office Quickie Workout Scott:

My guess is that you began your Internet Marketing business because you wanted more freedom. If you are trapped in an unhealthy body, you are not free at all.
OUCH. I read that on Scott's site and it drove home.
Please check in below with your progress for Day one, and I will, too.
I grabbed two cans of Bush's Baked Beans that I'll be using as weights today, since I don't have dumbells. (The BIG cans! I'm not that puny.)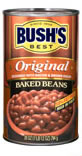 I'm headed off to get sweaty. Will check in soon.
Let's find 10 minutes every day to get healthier so we can enjoy the LIFESTYLE that we're working towards.
((hugs)) to all.
Nicole
PS. Post your progress, concerns, videos, audios, and cross-blog posts in the comments below. Also, check the comments from yesterday to see who's exercising alongside you: Computer Butt Challenge.
Note: You can follow all posts by keeping an eye on the Computer Butt category to the right.