Weird Niche: Birds, Bird Diapers, Bird Costumes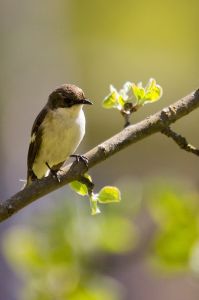 You guys seriously won't believe this one. Well, at least those of you who aren't fanatical about feathered friends sure won't.
I can't even figure out where to start with this week's Weird Niche Wednesday. I could talk about this website every Wednesday for the next month.
Should I start with the bird diapers?
Or the flight suits (yes, bird flight suits — like little costumes) with the diapers built in?
Or the bird sweaters — with custom monogramming?
Or the bird leashes — so your birdie friend can't fly away in his "flight suit"?
Or the "duck carrier"? I guess, since ducks can't walk very fast and "love to travel" — you need this handy dome bag that lets you take your duck everywhere with you.
The Topic for this week's Weird Niche Wednesday is — you guessed it! All Things for Bird Lovers.
Now, granted, I'm a "dog and cat and fish" kinda gal, so I don't get the bird thing at all. Actually, truth be told, I think it's more that birds don't like me than that I don't like them. I get … well, I hear that getting hit by fresh warm (gag!) bird droppings is lucky, so we'll say that I get "bird luck" on an abnormally regular basis. I even got "lucky" at Disney World, the happiest place on earth. ("Bird luck" that is. I'd have much preferred to get the other kind of "lucky" there. hee!)
So, check out this website and shop around … a lot. It's pretty hilarious!
Tell your bird-lovin' friends.
Now, while I'm having a hard time taking the subject of their website seriously, I CAN appreciate their marketing. They're doing a LOT of things right.
Being Memorable by Having a Sense of Humor.
888-412-POOP is their customer service phone number for goodness sakes!
Taking Advantage of Seasonal Sales.
Anyone selling an Easter Bunny Costume and Santa Costume for birds is a-ok in my book. They're taking advantage of the holidays to make more money.
Showing Media Exposure.

They're doing a great job of showing off their past media exposure by displaying where they've been featured. (Including Maxim, Washington Post,  and USA Today.) It adds respectability to their business and you can tell they aren't a "fly by night" operation. (Pun intended.) 😉
Recurring Billing.
I have one word to describe the Birdie Flight Suit of the Month Club – brilliant!
Asking for Testimonials.
On their site they say "Enter to Win: Submit a testimonial about Avian Fashions' products to be entered into a drawing for a free FlightSuit." – Fantastic way to get people to submit testimonials.
Building a Sense of Community.
Customers can send in photos of their birds, adding a sense of community — and a reason for the customers to talk to friends about their website "Hey, look at this, my bird is on this website!"

Educating their customers.

They offer training videos for potential customers, lessening their customer support, as well as getting past buying objections to make the sale. They also offer sizing information for the flight suits — to lessen the number of returns for product that doesn't fit. Well done.
Selling in a Variety of Markets.
eBay, foreign countries… they're doing a heck of a lot of great marketing on a variety of platforms and in a variety of markets. Bravo!
Honestly, I see a bunch of other things they're doing right. Like I said, I could talk about these guys all month long.
Great niche. Great customer shopping experience. Great business sense.
I only see a few things that I'd tweak to improve it, but I'll save that for another day. Overall, I'm loving it and I hope that their cleverness made you smile, as well.
I'll be back with more Weird Niche Wednesday in a week.
Warmly,
Nicole Dean, Bird Poop Magnet