Weird Niche: Plastic Turkey Wishbones
The Topic for this week's Weird Niche Wednesday is – PLASTIC Wishbones!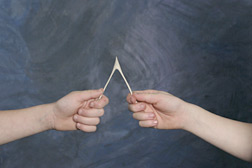 You read that right. Turkey Wishbones made of plastic. Go figure.
In case you're unfamiliar with the significance of the Turkey's wishbone, it is tradition at Thanksgiving in the US to play a game with the wishbone. Two people hold onto the Turkey Wishbone like the picture above, and pull until the wishbone breaks. The person who ends up with the larger piece gets good luck.
So, now that you know the significance, the need for a plastic wishbone makes sense, right? Yeah, I didn't get it either. 😉
After much thought, I still couldn't pin down the ideal customer –
Was it for people who loved Thanksgiving so much they needed it year round?
Was it for Vegetarian kids?
Or maybe for people who are REALLY competitive and needed a "do over" because they lost at the wishbone game the first time around?
Or for a loved one who needs all the luck he/she can get?
I didn't see the need for the "faux" wishbones at first, but was then enlightened…
I read a bit further on the site and had my "ah-ha" moment. DUH! I should have known. My mom had 10 brothers and sisters. So, needless to say, Thanksgiving had like 40 people and two turkeys – so there were only TWO wishbones. There were definitely more than 4 of us kids around who wanted to get our hands on those wishbones when they'd dried out and were ready. If only we could have ordered more!
Problem? Solution.
Now you can order more wishbones at:  LuckyBreakWishbone.com
The lesson here?
The lesson for this week's niche is that opportunities are all around us every day. I could do an entire series just on Turkey niches, I'm sure.
Or, if we wanted to go back to discussing dog flatulence — I'm sure I could find additional related opportunities in that niche for you, too.
The point is that opportunity is all around you. This clever business person took an idea, wrapped some really cool branding and an awesome story around it. (Read the FAQ page on their LuckyBreakWishbone.com site for fun. It's highly clever.) Incorporate humor and human into your business and people WILL remember it — even if you're not selling something as clever as plastic turkey wishbones. 😉
I'll be back with more Weird Niche Wednesday in a week.
Warmly,
Nicole Dean
If you want to find a profitable online niche,
I recommend you check out these pre-researched packages www.NicheResearchPacks.com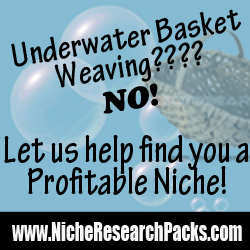 Want more Weird Niche Wednesday? Check these out…