Best Planners for Entrepreneurs for 2016
I am super addicted to buying planners this time of year. Like super-addicted. I love them and I use them and they make me money. So why wouldn't I love them, right?
I've started to compile a list of cool planners that I've found this year that you might like for your business. If you have another planner you love, let me know in the comments and I'll add it. 🙂
Here you go…
---
Leonie Dawson's "Create your Shining Business and Life" Planners
I love this planner, and it works really well to plan out not only what next year will look like for your business, and also what you want your life to look like too.
It's definitely a bit woo-woo. A few of my friends got it last year and went "what the heck, Nik?" lol! But, like I said, it's awesome if you want to do a lot of visualization and planning for 2016 – and especially if you're creative and want to have a keepsake to look back on at the end of the year when you go "LOOK AT HOW I ROCKED IT! I'M AWESOME!!!"
Here's my planner in the airport last year as I was working through it during a layover: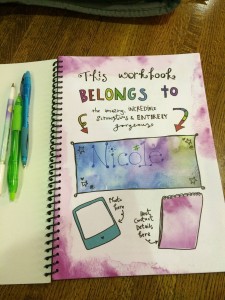 This gets a big recommendation from me. The whole system is broken down into weekly, monthly and annual planning and I recommend you work through it with your business coach.
-> Check out the uber-popular Business & Life planners here.
---
Natalie Collins "Biz Plan Book 2016 Edition"
I'm hearing really good things about this planner. Personally I haven't ordered it yet (but I will be), so I can't tell you too much about it, but I do know Natalie well and she's awesome-sauce, so I expect this is, too.
-> Check out The Biz Plan Book on Amazon
---
Awesome FREE Blog Planner with Calendar.
Every year, my friend, Lynette Chandler, puts together a big blogging calendar for the entire year. It's the best blogging calendar that I've seen and I've printed mine out to put in a binder.
See? 

 This is a picture I took of the 2011 planning calendar.
You may not be able to tell from my poor photography skills, but there are boxes for all kinds of planning each week –
1. Your own blog posts
2. Guest blog posts
3. What you plan to send to your lists
4. Promotions
So, guess what? The 2016 version is ready to rock and roll — and it's FREE
Grab it here: FREE 2016 Printable Weekly Calendar
Here's a sample page that I took a screenshot of so you can how nice it is.
This page shows how to use this year's blog calendar.
And, here's a sample page from this year showing what the printable planning calendar part looks like.
Here's that link again:
FREE 2016 Printable Weekly Calendar
---
Your Very Own Planner that YOU Can Sell? Yep. "Planning your Best Year Ever".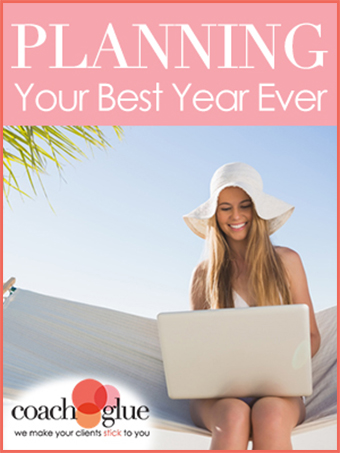 If you want to have your OWN planner that you can create a coaching program around and sell, we've got that covered for you at CoachGlue.com.
You get the planner in .doc format right away and then you can dig in, add to it, and turn it into a planner that you use when working with clients, create a coaching program around it, and/or sell it from your own website.
How do you make it your own?
Get a new cover (you can do that on Fiverr)
Change the colors
Add an "About you" page
Infuse some YOU into it. Your stories. Your examples.
Add a few more exercises
Insert a few book recommendations (Might I recommend this one?)
Include a call to action at the end
Voila! You have a totally unique planner that you can use to grow your business.
-> Grab this "Done for Your Business" planner. 
---
What did I miss?
But what other planners do YOU love? Do tell. I'm excited to hear about them.
Warmly,
Nicole
PS. If you want to grow your list, be sure to watch this free webinar about using LeadPages effectively.