How Do You Manage Your Home During the Summer to Actually Get Work Done?
–> Remember, these posts are better with your involvement, so please share your thoughts in the comments. 🙂
Every year, I share my latest method for making sure that summer is productive for me and for my kids. The kids are home. I have to get some work done, although I typically only work an hour or two each day during the summer. Still I don't want to be constantly interrupted or feel like the house is falling apart while I'm on the computer, right? That's not exactly a great boost to your creativity or productivity. 🙂
My kiddos are now 13 (daughter) and 18 (son), so things have sure changed in the many years that I've been sharing our summer plans, but this is the general system that we've been using since they were each toddlers. Why? Because it's the closest thing to sanity that I can come up with here.
We have a daily checklist that the kids must complete before the TV goes on, the computer goes on, phones come out, or any game systems get turned on. They also must complete their daily list before friends are allowed in the house. I found that, if I left the time limit open, that the lists wouldn't get done. However, if they know they can work through their tasks faster and be free of my tyranny – they work through it better. Of course, it is flexible if we make fun plans or if they have some sort of camp or we're traveling. This is just the day to day schedule.
Here's their list that I posted four years ago when the kiddos were 9 and 14. It's changed quite a bit since then as you'll see in a bit as they've gotten older. You can click on it to view it in pdf format.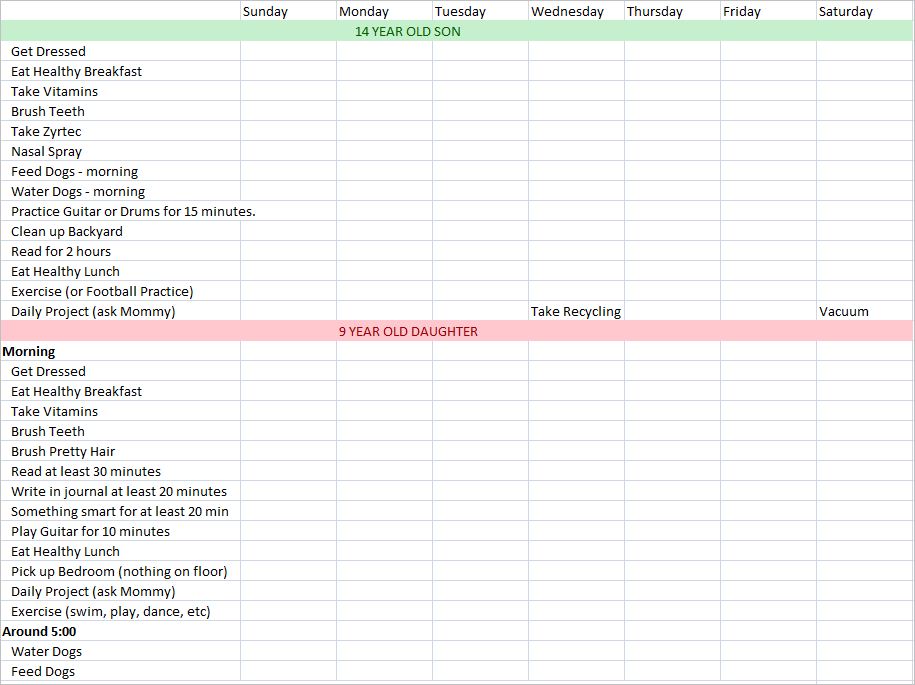 I printed it out weekly and they just checked off the days as they went through them. If everything got done during the week, they earned bonuses.
For instance, my son has a Gamefly account. He keeps it as long as the backyard is cleaned up daily. If there is an issue, he gets downgraded from 2 games/month to 1 and then to zero. It really never becomes an issue. He's really very self-motivated when he knows the rules. My daughter on the other hand… is a bit more stubborn.
Why were these systems so important to me when the kids were younger?
The kids knew what the expectations were in advance. They were better equipped to succeed and we were less likely to fight.
My husband and I were on the same page, because the rules were in black and white. (Again, less of a chance for misunderstandings.)
I didn't spend the days chasing the kids around saying "Did you brush your teeth?" or "Have you cleaned up the backyard?" I looked at their chart and it was right there in front of me.
It taught the kids that habits are important. And, that a family works on routine. And that running a home is a group effort. All good stuff.
So how has this changed over the years?
Now that the kids are older they have better habits. They brush their teeth on their own now and don't need to be reminded. 🙂
I want them to be their most awesome selves and I know that the days are long but the summer is short so if we don't plan and set goals at the beginning of summer, then we'll blink and have wasted an amazing opportunity to get more awesome.
My daughter will be going into Algebra in 8th grade and will be in a lot of honors classes. My son is going into the honors program in college. I want to do as much as I can this summer to help them to grow in a variety of ways to learn new skills and to sharpen their existing ones so that when life gets crazy again in the fall, they'll hopefully be a bit ahead of the game and won't have to be as stressed.
I still need to work a little bit during summer — even with a houseful of kids and friends over. 🙂
Here's what I've come up with…
The daily lists for the kiddos are now more about their own personal growth and their responsibility to the family this summer. As I said, they're old enough to remember to take their vitamins and brush their teeth. But I do want to help encourage them to become their best selves.
On that note, here's what I've come up with.
As you can see, my daughter is going to be working on her Algebra a bit this summer on Khan Academy while my son will be refreshing his calculus (since he's majoring in Physics, and he is expected to have his skills polished going into the fall). He also will be going through codecademy.com as he wants to learn to code and do some work for me.
My daughter is also taking a few classes through Florida Virtual School. She's taking Guitar and hopefully PhyEd, too. She wants to take  their photography course, too, but that might have to wait until next summer. 🙂
One last tip for battling the crazy. 
I've also added a sheet of House and Pool Rules to the front door so that all neighbor kids and friends know the rules without me having to go over them or deal with messes after the fact. Less stress for me, less misunderstandings, and I get to relax and enjoy the kids more.
Is it perfect?
By no means. But it does help me to get on the computer, do my work and more importantly get OFF the computer. It also helps me to have less stress, the house to be quieter and happier overall, and for me to feel like a better mom than I would if I was running around after everyone all summer. 🙂
I hope this gives you some ideas to make your summer run smoother too.
Warmly,
Nicole Dean
PS. What books would you recommend all teens read for personal success and growth? Help me add to our list:
PS again.  Another way to survive summer when you're not able to work as much as you'd like is to use PLR to help you to get your content written easier. 😉 Too subtle? lol. Click here for some that's running low and on sale.