Free 2015 Printable Weekly Calendar for Bloggers
Plan for More Profits on your Blog.
Every year, my friend, Lynette Chandler, puts together a big blogging calendar for the entire year. It's the best blogging calendar that I've seen and I've printed mine out to put in a binder.
See?

This is a picture I took of the 2011 planning calendar.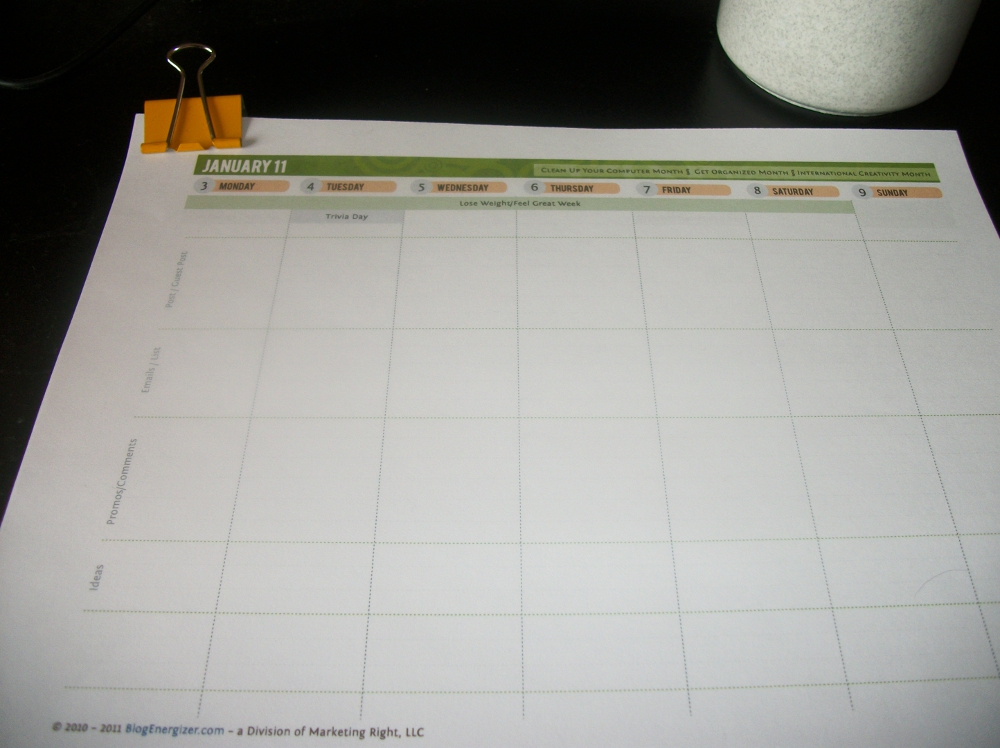 You may not be able to tell from my poor photography skills, but there are boxes for all kinds of planning each week –
1. Your own blog posts
2. Guest blog posts
3. What you plan to send to your lists
4. Promotions
So, guess what I've got for you today? The 2015 version which is better than ever. 🙂
The best part? It's free.  Just grab it and go.
Grab it here: FREE 2015 Printable Weekly Calendar
Here's a sample page that I took a screenshot of so you can how nice it is.
This page shows how to use this year's blog calendar.
And, here's a sample page from this year showing what the printable planning calendar part looks like.
Here's that link again:
FREE 2015 Printable Weekly Calendar
When you get to that page, click the download link. A box will pop up asking you to share the calendar on FB or Twitter. Once you do, the zip file will open.
If you don't want to share until after you look at it, or run into problems, just click on the "I already shared" link and the download will begin. (Just don't forget to spread the word later.)
I hope it helps you plan for a great year!
Warmly,
Nicole Dean
PS. Speaking of blogging, if you get stuck coming up with topics and writing, use these articles as drafts and never have writer's block again: http://www.easyplr.com