How to Get More Amazon Book Reviews
It's another Expert Briefs, where I ask really smart business owners to answer your burning questions on all things related to online business success.
As you may know, last month, I announced to my lists that my new book "Blogging for Profit: The Stripped-Down Naked Truth from 26 Rockin' Online Business Owners" is available. Yay!!!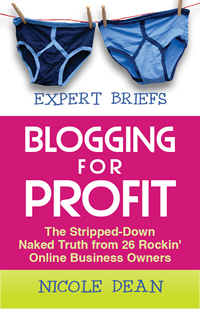 Well, one thing that I'm finding really hard is getting people to write reviews. (Apparently I'm normal and most people struggle with this.)
So, I turned to my friends for help.
This week I asked our panel of experts…
"For Amazon authors: What's your biggest tip for getting more reviews on Amazon?"
I'm working on tracking down a few more people to answer. So make sure you sign up for updates so you find out when their responses have been added.
I think you'll find the responses from my friends interesting. I did. 🙂
---
One great tip to get reviews is to just ASK the people who have read your book to leave a review.
I put a picture of a post-it note at the end of my books, along with a reminder scribbled on it to leave a review if they liked the book, and a link to my book.
It works really well. 🙂
---
My limited experience as a Kindle book publisher has taught me one thing: Not very many people leave reviews!
On my Solopreneurs are Smarter: Why Solopreneurs Rock The Online Business World
book there are 16 reviews.
15 are there because I specifically asked for them. The 16th came out of the blue, and it was negative. He criticizes the book for not being something the book never promised to be (a how to guide).
I ignored the negative remark. Sure, I could point out that he apparently expected something not offered in the book's description – but what good would that have done?
I want to be open with your readers Nicole. A LOT of people that I asked to leave a review, never did. I can only guess that it falls under the 'we're constantly pressured to comment, like, share and vote and now we have to leave Amazon reviews?' category of 'I'm just too busy'.
All I've learned about the situation then is this: Ask for reviews. Ask, remind, cajole, beg and plead.
Then say thank you, of course. And doggone it, return the freaking favor!
---
To get more reviews for your Amazon books, simply ask for them.
I have lots of reviews for some of my books there, and none at all for the ones I have not asked people to review.
---
Here are my Top 5 ways I get more reviews on my books on Amazon:
1. Ask. Ask. And ask again. Often people are very happy to provide reviews. You may have to give them a copy of your book, but friends, family and colleagues are excited to help you out by leaving a review for your book. Tell them it can be as short as a few sentences, and refer to #5 for an easier way for them to say, "Yes." Make sure you follow up with them every few days to a week or so. The squeaky wheel gets the grease, and if they said, "Yes," don't be afraid to remind them.
2. If your book is in print, send a secured PDF copy to other experts in your niche and ask them nicely for a review. These reviews can be put inside the print book, then when the book shows up on Amazon you can ask them to copy and paste their review on the listing. It's also super easy if you send them their original review in an email so they have less excuses to get it posted.
3. Include a page at the end of your print or Kindle book inviting readers to review the book and share your book with others who will enjoy it.
4. Research. Find bloggers who have an established website and ask them if you gift them a copy, if they would post a review. Most are only too happy to get more free reading material. You can either mail them a printed version or click the "Give as a Gift" button on Amazon for Kindle books. With the Kindle books, you still make money for that book sale even though you have to buy it, so it becomes a cheap way to get quality reviews.
5. Write a sample review for them. Ghost writing reviews is an easy way to get busy people to say, "Yes!" Write what you'd like them to say about the book, then send it to them for their permission to use it and/or tweak it. Include it in your print book and ask them to post it on Amazon.
---
Nicole Dean of .. here! .. says:
What I did was to buy Rachel's course Rolling in Reviews for inspiration first. 🙂 Yes, that's an affiliate link, but I did purchase the course, too.
Then, I followed these steps so far…
1. I offered a book bonus for my "Blogging for Profit" book when it was first released. People who purchased the book could get bonuses during a certain period of time. When they signed up for those bonuses, they were put into an autoresponder. Seven days after getting added to the autoresponder, they received an email making sure that they got their bonuses, asking them if they enjoyed the book, and then requesting them to please leave a review, too.
2. I asked the contributors who were in my book to leave a review. Some of them did. (Those peeps will definitely be featured in future books.)
3. I waited a few weeks to give time for the people who bought the book to finish reading it – and am now writing this blog post to beg for reviews. 😉 Too subtle?
Here goes…
Please Review My Book if you Read It:
-> If you bought my book and enjoyed it, please leave a review here:  How to Have a Profitable Blog <-
If you didn't love the book, then I seem to have misplaced the link. (Go here instead to spend time with Grumpy Cat and get happy.)
Then Share your Tips and Questions Below.
I always want to hear from you.
Warmly.
Nicole