Free Marketing PLR – Every Month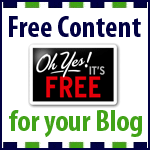 Hi I'm back with another "FREE Money-Making Content for You" Friday!
Friday is the day where I give you free content that you can use on your blog or in your business. Hurray!
Today, I have something cool for you.
You can now get BRAND-NEW FREE marketing PLR content every month. 🙂
The current free PLR is about getting started with WordPress and it will be changing very soon to a new package.
Sign up to get it here:
Free Marketing & Business PLR
(You'll see a special offer on the page as you're signing up to get more really cool marketing PLR for your business every month.)
This free PLR program is a new service that my friend, Melissa, and I put together to spread the word about our services – and give back to our customers, of course.
I hope you like it!
Thanks!
Warmly,
Nicole Dean