Free PLR: Calcium Chart & Challenge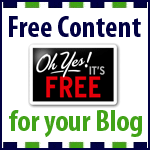 Hi I'm back with another "FREE Money-Making Content for You"Friday!
Friday is the day where I give you free content that you can use on your blog. Hurray!
Today, I have something a little different for those of you who are in the food or homemaking or health niches.
It's a Family Calcium Challenge & Chart to help your readers to get enough Calcium every day! 🙂
It's by my friend, Alice Seba, who has more food and fitness PLR here: Food & Fitness PLR.
Here's what to do:

1. Click here to download it: Calcium Chart: For Healthy Bones (.zip file)

2. 2. Add your URL, a picture (see below) or any fun offer you'd like. Post it on your blog. 🙂

3. Be sure to check out what Alice has to offer here: Food & Health PLR
Thanks!
Warmly,
Nicole Dean
PS. I also found you some cool pictures you can use in the chart when you give it to your readers.  Pictures of Milk.