Expert Pets: Melissa Ingold & Me.
It's time for the wrap-up of our Expert Pets. 🙂
If you missed any of this series, be sure to check out these posts:
Show Me Your Pets!
Today, we've got the last two of my series. Me and my friend, Melissa Ingold.
---
Melissa Ingold of Internet Marketing PLR Reports:
Melissa shares her dog, Bowser, with us in this video.
http://www.youtube.com/watch?v=qC4Qv8tXbfE
If you need Internet Marketing & Business PLR – check out what Melissa has here: Internet Marketing PLR
---
Nicole Dean of .. here! .. :
I have my two boys, Einie (ie Einstein) and Luke.
Einie (4 years old) is a Golden Retriever / Yellow Lab mix.
Lukey (2 years old)  is a Mastiff / Cocker Spaniel mix. (No idea how that happened. Love is a strange thing. lol!)
Here's my Einstein trying to learn chess when he was a puppy:
And, learning to sit. (Photoshop courtesy of Kelly McCausey. lol.)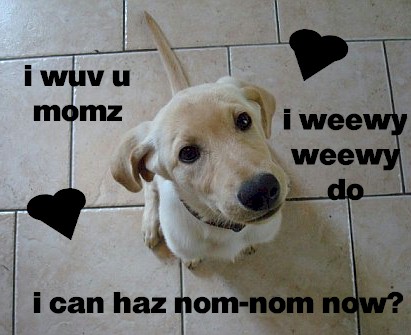 My Einstein over the years. I have used him as a model for my blog posts. 🙂
For instance – Halloween Costumes for Dogs.
And, Dog Tag Silencers.
Here's Einie in his dog tag silencer.
Einie is nuts. 🙂 He only has three thoughts in his pea brain.
Breakfast. (The boys figured out that breakfast means eat, so they get "Breakfast" twice a day. lol)
Ball.
Swim (in the pool).
In fact, if I am slow in throwing the ball into the pool, he'll knock it in with his front paw and then jump in after it. Crazy boy!
Things Einstein hates:
Thunderstorms
Being outside without a person
Car rides
Shiny floors
Cats
So, that's Einie.
Now Luke.
Here's Luke when he was a puppy. Well, we got him from the rescue when he was at least 6 months old, so this is as "puppy" as I saw him.
Luke is slow and easy. He's SOFT and snuggly. He loves breakfast, too. 🙂
You may notice that Lukey has a LOT of extra skin. It's so cute.
Luke would rather watch Einstein fetch the ball while Luke instead gets his tummy rubbed.
He also likes to watch Einstein swim – until Einie tries to get out. Then Luke starts biting and licking him. Like "I'll save you!"
Luke is not a swimmer, though. He has fallen into the pool a few times, and doesn't seem to swim very well (we had to jump in and help him to the stairs). So I have to give him swimming lessons as soon as the pool warms up enough that I can get in without freezing my booty off.
And, here are the boys now. Einie is wet because he was just swimming in the pool. Luke doesn't look happy. lol.
Well that's the end of this "Expert Pets" series — unless you'd like to share pictures in your comments, which I would, of course, LOVE.
Big hugs and thank you, as always for reading.
Warmly,
Nicole Dean