Can Good Copywriting Sell a Bad Toupee?
Oh yeah, baby. It can. And, I can prove it.
If you saw this graphic of a Toupee, would you buy it?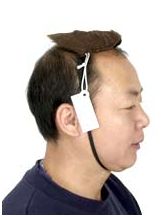 I didn't think so.
What if it were accompanied by this?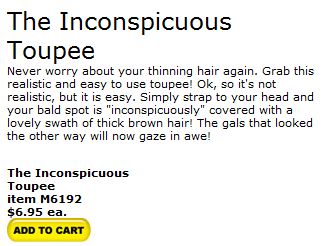 Too funny! Now, you actually have me thinking of men in my life who NEED this toupee. 😉 And, at only $6.95 — what a bargain!
Adios, Hair Club for Men. I'm getting the folically-challenged men in my life, the The Inconspicuous Toupee! <– click there if you're interested in buying one of these slick "Rico Suave" toupees for the balding man in your life.
I'll be back soon with some great marketing examples of taking a product that is mediocre to fabulous — with *great* copy!
Do you need to schnazz up your copy?
Do-it-Yourselfers check out –>  Copywriting Course for Beginners
Want to find a Copywriter? —> Shelancers for Hire
Interested in Copywriting as a Home Business? –> Moms Talk Biz has a copywriting course.
Have a wonderful weekend!
Nicole