Free Content for your Blog: Use My NAMS Tour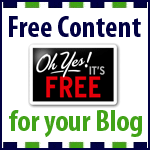 Hi I'm back with another "FREE Money-Making Content for You"Friday!
Friday is the day where I give you free content that you can use on your blog – with your affiliate link, to make money with. Hurray!
Not only that, but it's copy/paste ready for you to profit.
So, yep. You can make money by publishing free stuff. Pretty cool eh?
Of course, rules apply.
So what do I have for you today?
It's a tour of the NAMS membership program. At the end of the video, I included a big arrow that points to under the video so that you can post your affiliate link under the video to earn commissions.
-> The only thing I ask is that somewhere in the post you mention me and link to any post on my blog that you've enjoyed.
Here's the video:
Grab and Go:
You are welcome to post the video on your blog and promote NAMS under it. Here's an example that you might use:
JOIN ME IN THE NAMS COMMUNITY!
Click here to check out NAMS
(be sure to look for a coupon code on the page)
Would you like to become an affiliate for NAMS? 
You have two options.
 Join the NAMS Community here and you'll automatically become an affiliate, too. (Recommended.)
OR
Click here and Sign Up for a Free Affiliate Only Account
Thanks!
Warmly,
Nicole Dean