Free Content for your Blog: Make Blogging Faster & Easier with this Plugin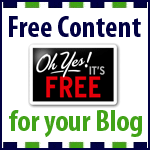 Hi I'm back with another "FREE Money-Making Content for You"Friday!
Friday is the day where I give you free content that you can use on your blog – with your affiliate link, to make money with affiliate marketing. Hurray!
Not only that, but it's copy/paste ready for you to profit.
So, yep. You can make money by publishing free stuff. Pretty cool eh?

Of course, rules apply.
So what do I have for you today? A 3-minute video about a plugin that I found yesterday that's going to save me HOURS in time every month.
What is it?  Here you go:
You are welcome to post the video on your blog and promote BlogCPR.com under it. Here's an example that you might use:
Are you Ready to Learn More Tips to Make
Blogging Faster and More Productive?
I hope you like it!
Thanks!
Warmly,
Nicole Dean