More Copy & Marketing Mistakes to Make you Laugh
In business, you really have to have a sense of humor — especially when dealing with clients or AS a client.
How many of you got the email from Jimmy D. Brown today about his new PLRSO.com club that looked like this:

Well, the little "Sbj:" part before it wasn't supposed to be there, obviously.v
Guess who sent the mailing? ME! The "Sbj:" part was to show ME where the subject line was.
UG. So, I get it in my inbox and say "Sweet Niblets!" (as my daughter taught me from Hannah Montana). Then, I proceeded to cross my fingers that Jimmy wouldn't notice it. At least if he did, he KNOWS that I'm on cold meds. You can't say that I didn't warn him…
Thankfully, the boss is an awesome guy. (Not like I was *really* worried or anything.)
Whereas some people could have taken that as an opportunity to rip into me… he sends this:
LOL, you 

*

are

*

 a little under the weather.  The subject line says "Sbj"
and there is no "Dear First Name" in the opening. 
Or, were these by  design?  

 :-) 
After I bonked my head off my desk a few times, I counted my blessings that he is such a great friend.
THEN, I'm chatting with my girl, Arika, who manages my PLR site. I tell her that some of the customers are ordering our marketing reports expecting them to be more advanced than they are. (We don't cater to the experienced marketer crowd there.)
So, we decided to mark those packs with a note that they were written for the "beginner".
I said "Arika, can you please handle that for me?"
She says "Sure."
A few minutes later, she says "Check it out."
I go to the site and started laughing until I cried when I saw this: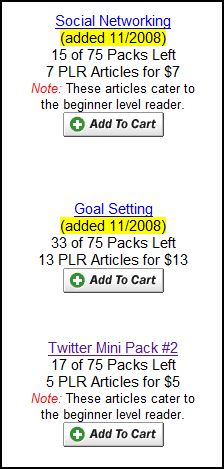 I immediately messaged Arika with the little laughing dude on Instant Messenger and she IM'd back "What?! Did I do something wrong?"
I was laughing so hard that I couldn't type. Tears were running down my face.
She said "What? What's wrong?"
Finally, I managed…
I can tell you're a mom. "Beginner level reader"
Dick and Jane!
See Jane.
See Jane Twitter.
Twitter, Jane, Twitter.
Then, she starts laughing. I meant Beginner Marketer, obviously.
I don't know. You guys think this one is better than Bear on a Bicycle or not? 😉
Hope it gave you some smiles!
Nicole
PS. See another benefit of Outsourcing is … laughing your butt off!