Start the Cleaning Process in Your Business for Free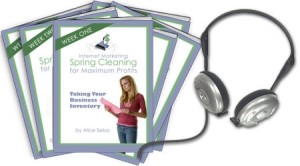 Last week I told you about the free yearly planner for online business owners that I found.
If you liked that then you'll love what I've got for you today. The Internet marketing sweetie herself Alice Seba, has opened up the first lesson of her Internet Marketing Spring Cleaning Course for you to have a look see!
Whether you are a visual learner or prefer to listen to your work, you can benefit from this free lesson because she's offering it in both versions. It's the actual first lesson in her coaching program and even if you don't sign on for her Spring Cleaning course you can learn a lot about your business and how to keep your focus.
In this first lesson you'll learn how to begin clearing the clutter (oh the clutter an online business owner can end up with before we even know it), getting rid of non-profitable parts of your business and more.
Check it out by clicking the link below.
Lesson 1: Taking Your Business Inventory
If you download the lesson do come back and let me know what you think. I think it's a great place to start when you're ready to get serious about your business and start focusing on the profitable things and ditching the ones that cost you time and give you little in return.
We are in this to make money right?
Yes, I'm guilty of falling into this trap too. You are not alone I promise. 😉
Wishing you a focused and clutter free business,
Nicole