Free PLR: Facebook Fan Page Workbook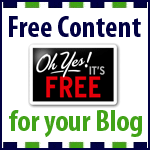 Hi I'm back with another "FREE Content" Friday!
Friday is the day where I give you free content. Hurray!
Today you can get a free PLR Workbook and Checklist entitled "How to Create & Profit From Your Facebook Fan Page".
This workbook walks you through the five steps required to create and profit from a Facebook fan page.
The steps include:
* Step #1: Define Your Facebook Page's Goals and Purpose
* Step #2: Identify and Research Your Audience
* Step #3: Plan Your Facebook Page
* Step #4: Create Your Facebook Page
* Step #5: Maintain Your Facebook Page – A Long Term Plan for Profit
Grab this free gift below.
It includes…
-> Step-by-Step workbook (9 pages)
-> Handy printable checklist (3 pages)
Download this free PLR workbook and checklist.
Click here to Download the Free Facebook PLR
Be sure to read the offer on the download page.
You can get a sweet deal on more PLR Action Guides like this one.
That's it for today. Have a great weekend!
Warmly,
Nicole Dean