Free Blog Content: Embed YouTube Videos in your WordPress Blog Posts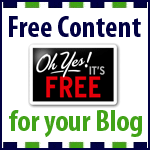 Hi I'm back with another  "FREE Content for Your Blog" Friday!
Friday is the "freebie" day where I give you free content that you can use on your blog. Hurray!
Today, I'd like to talk videos. Did you know that it's super-easy to embed YouTube videos onto your blog? That didn't use to be the case.
While, I don't want to encourage you to add video just to add video, it can certainly add value IF you can find a channel with helpful, expert videos (like mine – hint hint). If so, you should do it!
Here's how easy it is: (Actually, it just got easier. See below this video.)
The new easier way that was brought to my attention by Scott of Scott J. Smith  is below.
View the rest of this post here: http://codex.wordpress.org/Embeds
So with that method, you just copy and paste the URL of any YouTube video or Vimeo video into your blog and then make sure it's on it's one line.
I tried it, of course, before I posted here. It works. 🙂
If you'd like to grab ANY of my YouTube videos, you can get them here:
Nicole Dean's Awesome YouTube Channel <- Click there to grab videos
Or, if you're in a different niche, then look around and find some videos that your blog visitors will love!
I hope you've enjoyed this "Free Blog Content" Friday. I know I have! If you'd like, please share your YouTube channel in your comment below – to encourage my readers to embed your videos.
Thanks, as always, for another wonderful week of fun.
Warmly,
Nicole