Make Money Scrapbooking for Others!
Home Business Idea: Scrapbook Creation
Scrapbooking is a favorite hobby of many. It involves displaying one's favorite photographs in a unique and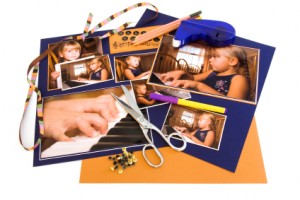 beautiful way. Scrapbooking supply stores have opened in many cities and towns, making it easy to find beautiful embellishments for our memories.
Lots of people love the look of scrapbooks, but some do not have the time or skill required to make their own. Scrapbooking can be somewhat time-consuming, especially to novices. Creating beautiful scrapbooks for others can provide you with a lucrative and fun home business opportunity.
Getting Started with Your Scrapbooking Business
To create scrapbooks, you will need albums, paper, page protectors, adhesives, and decorative accents. Scrapbooking supplies can be found at many craft stores and specialty shops. They are also available online. If you can find them in bulk, you can get a better price on them, lowering the cost of your creations.
You can save money by having your customers purchase their own albums, or by purchasing them as you go. You will recover your costs once the scrapbook is paid for, but when you're getting started buying a lot of albums may not be feasible. Another way to save money in the beginning is to buy only basic supplies at first. You can always buy more embellishments as needed. Another option is to join a Direct Sales company that sells scrapbook supplies or rubber stamps and use those supplies as the foundation for your business.
Promoting Your Business
Promotion of your scrapbooking business can be done in many ways. You could place ads in newspapers and other print publications. Fliers showing pictures of some of your favorite creations can be placed in various locations. You could even set up a portfolio website so that potential customers can browse numerous samples of your previous work.
Craft fairs and festivals provide great opportunities to promote a scrapbooking business. They give you the opportunity to show entire albums that you've done. They also allow you to speak face-to-face with interested parties. You can answer any questions they might have, explain techniques, and show some of the materials you use.
Scrapbooking is a passion for many. If you eat, sleep, and breathe scrapbooking, creating scrapbooks for others and making money doing so could be a dream come true. Many people's busy lives do not allow them much time for hobbies, and they would gladly pay someone to make a beautiful album featuring their treasured pictures. Offering this service can provide you with a steady income while allowing you to spend more time doing something you enjoy.
As someone with very little time and patience, I would definitely hire someone to do my scrapbooking for me — in a heartbeat!
My friend, Dawn, has put together a complete course on Scrapbooking for Profit. So, if you LOVE Scrapbooking, find out how to turn that into cash (or more cash if you're already a Consultant for a Scrap company). 😉
Warmly,
Nicole