Don't Be Boring (Like Other Marketers…)
If you've been following me for any amount of time, you already know that I'm "Mostly-Sane".
Long ago in my business, I decided that I didn't want to be just like everyone else for two reasons.
1. It was hard trying to be like everyone else, and
2. It was even more difficult suppressing who I am.)
So I sucked it up and embraced my inner goober. Want to know what happened ever since that fateful day?
1. I've had a lot more fun.
2. I've experienced bigger profits.
I believe that we each need to realize what makes us unique and let that shine. No one else can be YOU, so it will make you stand out in your business.
So, a few days ago, when Welly Mulia offered me this guest blog post about being YOU – and embracing your own inner goober – I knew it would be a perfect fit for my "mostly-sane" blog.
I hope you enjoy it! (Image source: http://sxc.hu)
—–
Don't Be Boring (Like Other Marketers…)
by Guest Expert, Welly Mulia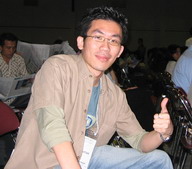 There are tons of marketers out there in the same market as yours (unless you are in some obscure market), trying to sell relatively the same products or services to potential customers.
What makes you different than the pack? How do you stand out from the crowd so that people pay attention to you and eventually buy from you instead of from your competitors?
The Most Common Way Is To Compete On Price
You charge the lowest price compared to you competitors. If you've just stepped foot in your market (meaning you are a newcomer and people don't know who you are yet), then this is understandable. But if you already have an established presence and you compete on price, it's not good for your business in the long term as this means you sacrifice your profits.
Free Useful Tips
The other way to differentiate yourself from your competitors is by providing free useful tips to your audience. It used to be enough years ago when not many marketers are doing that, but not anymore now. Every marketer is constantly providing useful tips to his audience, and free information can also be easily gotten via a simple Google search.
An Interesting Person
The other way to stand out from your competitors is to be INTERESTING as a person, or in other words, don't be boring. If you are interesting, people are going to pay attention to you even though they know you are trying to sell the something.
Here are 2 ways (that A LOT of marketers don't use) on how you can become an interesting person (at least in the eyes of your audience):
1. Tell Your Story
Tell your story as it relates to your field. In fact, also tell your PERSONAL story that has nothing to do with your field. After all, your audience is human; and humans by nature are curious creatures.
You tell your story in the "About" page on your blog. Don't write a long essay though – just enough information to let your audience have a feel of who you are and your background.
Feel free to throw in your story within your blog posts as well (not too much – just enough to capture the interest of your audience). If you ONLY tell your story all the time without providing any beneficial content, they will eventually be bored too.
You want to kind of "tease" them – tell them your story in bits and pieces here and there instead of telling it all at once.
2. Create Your Own Vibe
A vibe is a slang that you use to connect deeper with your audience. For example, I have a few vibes that I use every now and then to connect with my audience:
-This is AbZy (Absolutely Crazy)!
– Replace Your Job Guy
– The Guy With The Crazy Asian Accent
Using these vibes help me differentiate myself from my competitors. People love them because they feel that I'm their friend (that's how you talk to a friend right – you use slangs and talk in an informal way).
Using your own vibe helps to foster the kind of informal environment which people like and make them feel at ease and eventually be more receptive to you.
If you haven't yet used stories and vibes in your marketing strategy, you need to use them now before your competitors do. I GUARANTEE that your audience is going to pay more attention to you than your competitors.
About Welly:
Welly Mulia Helps The Average Beginner REPLACE THEIR JOB On The Internet.
Click Here Now To Instantly Claim Your FREE Cheat Sheet And
Learn How To Make Money On The Internet With Zero Hype.