Online Success Cast #12: Bob "the Teacher" Jenkins

I'm back with another interview! 🙂 This week, my guest is Bob "the Teacher" Jenkins – another friend of mine, and successful online business owner making a difference.
The audio recording of our interview is at the end of this blog post. Just look for the "play" button and listen. It's free!
I met Bob at a Live Event earlier this year (Willie Crawford's 50th Birthday Celebration) and then we got the chance to hang out again at Ken McArthur's IMPACT event in Orlando a month or two later.
See? Here we are!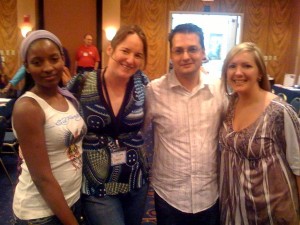 Elizabeth Ashe, me, Bob, Lynn Terry
I knew that I liked Bob immediately, even before we were introduced. I noticed his warm smile and I wanted to meet him, even before I realized how flippin' smart he was, too. He just stands out in a room full of people as someone who is really special.
Also, every time I walked by him, at the event, I noticed that he was typing notes in a weird program. It turns out that he's a Free Mind addict and he's helped me to learn about the program and use it, too. It's great for brainstorming ebooks before you start writing them, and for thinking through projects that involve a lot of steps.
Learn more about Free Mind and Bob's tutorials on the program here
-> Free Mind Training (You'll get rid of post-it notes forever.)
So, anyway, I finally got an introduction and I knew my life would be better off for knowing this new friend.
Here's more about Bob so you can see why I think he's cool:
Bob Jenkins is an internet business marketing teacher, with ten years experience teaching teenagers and teachers. He is the creator of several online training courses that teach you how to get better customers and increase your profits. Specializing in social networking strategies for business and creating information products from teleseminars, Bob can help you use internet marketing tools and strategies to promote your business online.
[display_podcast]
Paid "Must Have" Tools Recommended by Bob:
Free "Must Have" Tools Recommended by Bob :
Tweet Deck – For organizing and managing Twitter.
Mind Maps: Free Mind – Organizing everything in Bob's head!
Roboform: Saves Bob at least 2 hours/week. I use it, too! (Free trial, but you'll want to upgrade.)
Bob's Mentors
Mike Filsaime
Paulie Sabol
Donna Fox
Adam Urbanski
Takeaway Points
Having an accountability partner is huge.
Make a difference in what you do and you'll love your business!
You'll need different mentors over time, depending on what you're focusing on at the time.
One lucky listener will win…
One Month of FREE Access to Bob's IM Success Library!

As always, one lucky listener will be chosen to win a prize. All you have to do is listen to the show and leave a comment about what you learned from the show — and you'll be entered to win one month of Bob's IM Success Library.
What is it? Well, let me just tell you!
At the IM Success Library, you'll have access to step-by-step video and audio courses that cover EVERYTHING you need to know about things like:
– list building
– information product creation
– affiliate marketing
– technical know-how
– website management
– traffic
– autoresponders
– Twitter and Facebook
– and a lot more.
The fact is, it's impossible for me to tell you in this blog post just how much of an impact this will be for your business. So, check it out by clicking on the graphic below. (Site will open in a new window.)
After listening to the show, comment below about something you learned from the show — and you'll be entered to win. If you're already a member at IM Success Library, then we'll work out an alternate prize.