Income Boosters: Mastermind Groups and Why They are Important
I'm often asked  "What are the biggest things you've done to increase your income so much in such a short time?"
There are a few factors and I'll cover them in the coming days and weeks ahead.
One of the Top Things that has boosted my income is Joining Mastermind Groups.
It is *very* hard to achieve your financial goals when you're working in a vacuum.
A mastermind group is an entire group of people who share a common interest and work together for the better of the entire group, by helping other members to reach their personal goals. In this type of group, everyone gives and everyone benefits.
Normally, a mastermind group costs less and you'll get to pool resources from different areas that you might not have with a one-on-one coach.
For instance, I belong to a few mastermind groups including this one.. Our group is made of internet marketers all over the world, who run every type of business you can think of. No matter where we live, what our lifestyle is like or the type of business we run, we all have 2 things in common:
We're investing money in our businesses.
We want to work with others.
The point is we're there to help one another with anything and everything we can. Just a few of the advantages of being a member of a Mastermind may include:
Coaching and Advice from other business owners
Business Resources & Tools only available to group members
A place where others "get" what it is we're doing.
Positive reinforcement and butt kickin's when we need them to keep us from giving up when things get tough.
Accountability from other members.
Contacts that serve us well in specific areas of our business (i.e. affiliates, partners, etc.)
And that's just the tip of the iceberg!
The cool thing about Mastermind groups is that they are everywhere. Here are a few examples of Mastermind groups I've seen:
Mom Business Owners.
Online Business
Product Sellers
Writers
Service Businesses
eBay Sellers
Copywriting
Internet Marketing
Exercise
Health & Diet
And so much more
How else can an online Mastermind group benefit you?
As you may know, in sports, having a good coach will increase your chances of success. Also, the players on your team can make or break your game. If you play on a team with players who are mediocre, your game will remain mediocre. If you join a team with better players who take the game seriously and you add a a great coach, your game will improve as well — significantly.
How do you choose a quality Mastermind group?
In a good Mastermind group, you'll find people who take their business seriously. Think about it. If  the other members are willing to invest money to be there, you know they want to learn. Their business is not treated as a hobby. The members are dedicated to their businesses and work hard to achieve success.
There are several key factors to deciding if a Mastermind group is worth your time and effort.
1. The leaders
Do they know what they're talking about? What are their qualifications? A good group will be led by experts in their field, by true leaders who have experience in the topic and know how to share that information in a clear, concise manner. They are not afraid to share their success and are confident in themselves to be able to lead others to succeed as well.
2. The Resources
Most Mastermind groups offer resources that are only available to their members. These may be interviews with experts, ebooks, audio and video teleseminars, and software. Take a good look at the resources available. Oftentimes the resources alone are worth many times the price of the membership.
3. The Forum
A good Mastermind group will include a forum where you can brainstorm and build relationships with other members. This is where you'll get specific and applied help. The coaches or leaders should also have a very visible presence on the board, personally answering questions and giving guidance.
So, yes, there are great free forums online and valuable free resources. But, if you want to improve your game, then find the best coaches and jump into the game with a team who can take you to to the top.
Two Mastermind Groups to Consider:
Mom Masterminds – This is where I originally started. Kelly McCausey take you by the hand to help your Online business succeed. MomMasterminds offers a free trial membership. It's a bit pricey if you don't see the fine print that you "graduate" after a year and never had to pay again. The free trial will give you a taste of what's inside and if it's the place that you'll want to call "home".
Lynn Terry's Elite Group – Run by the awesome and brilliant Lynn Terry. This is the place to hang if you want to make the big bucks as an Affiliate Marketer and is the place that I hang out most these days. Would love to have you join us.
The cool thing is that you bond with the people in these closed-door forums and get to know them as family.
For instance, I met Carrie Lauth in Mom Mastermind years ago. Here's a picture of us from this past weekend when we FINALLY got to meet. Aren't her babies adorable?! I wanted to squeeze them so badly, but didn't want to scare them off. 🙂 She's a smart hard-working marketer, an excellent writer (very entertaining and informative) and I'm delighted to have finally met her in person.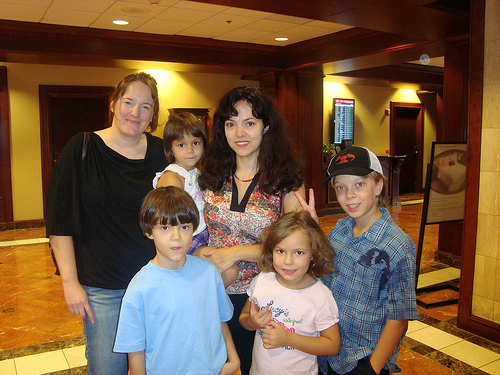 And, here are some pics of me hanging with members of Lynn's Elite club. (I'm on the right with the brown sleeveless shirt.)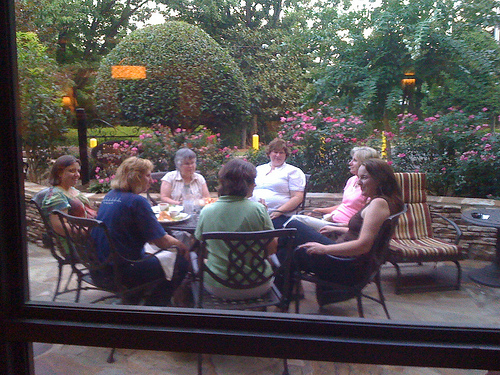 I highly recommend that you invest in a mastermind group before you even think of buying another ebook. Rather than pouring through ebook after ebook, trying to find the answers to your questions with no one to ask, you can spend the same amount of money and have an entire GROUP of successful internet marketers who will answer any questions that you might have.
Of course, if you want to pick my brain, I'll be in the Elite Group. I'm not there every day, but I do try to stop in a few times each week. (Lynn and the other marketers are there daily.) 🙂
Oh, and here's a recent pic of me and Lynn hanging out last weekend. I'll post more about the conference soon, but am still gathering pics – as you can tell.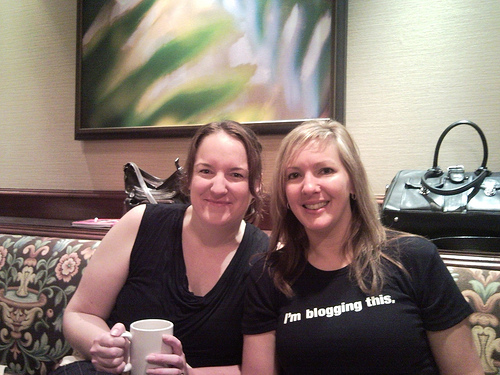 Pssst. You can order that shirt "I'm Blogging This" at Think Geek
.
Have a productive day!
Warmly,
Nicole